8.9

The Search Results View

To search across an entire project:
With the Modeler view active, press Ctrl+F.

Select whether the search is case-sensitive.

Filter object types you want to search on. You can select or deselect all items through the Select All or Deselect All buttons.

Click OK.
The results appear in the Search Results view, sorted by name, class, type, and notes. To sort on a different column, click the column headers.
Figure 8-23 The Search Results View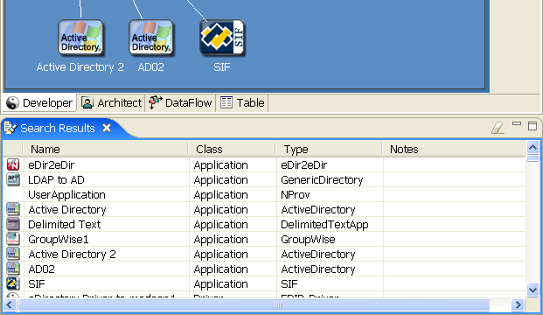 If the Search Results view isn't already open, the search opens it.
As you select an item (for example, a policy) in the Search view, the corresponding item (for example, the driver) is selected in the Modeler.
If you double-click an item, its appropriate dialog box or editor launches. To open an item with another editor, right-click the item and select Open With.
To clear the Search view, click the Clear icon in the Search view's toolbar.
When you subsequently invoke the Search dialog box, Designer remembers your latest search settings.