5.3

Filtering

When any of the reports (except the Summary Report) are generated, Novell File Reporter creates a report containing all file-based data for the storage resources or Novell Storage Manager policies from which you want to report. This report has the potential to be gigabytes in size, and possibly hundreds of thousands of pages long.

Reviewing all of this data in a report is impractical and inefficient. As a best practice, reports should be viewed through filters that present a reduced number of entries according to the criteria you want to see.

For example, suppose you want to view the top 100 users whose files are taking up the most space on the network. To do so, you would simply set filtering parameters to present only the top 100 users by total size in descending order before generating the owner report.

Filters can be very specific and very detailed. Fortunately, filters only need to be created once. After a filter is created, you can save it and use the same filter for later reports.

The Filter Settings dialog box is shown below. A discussion of the settings follows.

Figure 5-2 The Filter Settings dialog box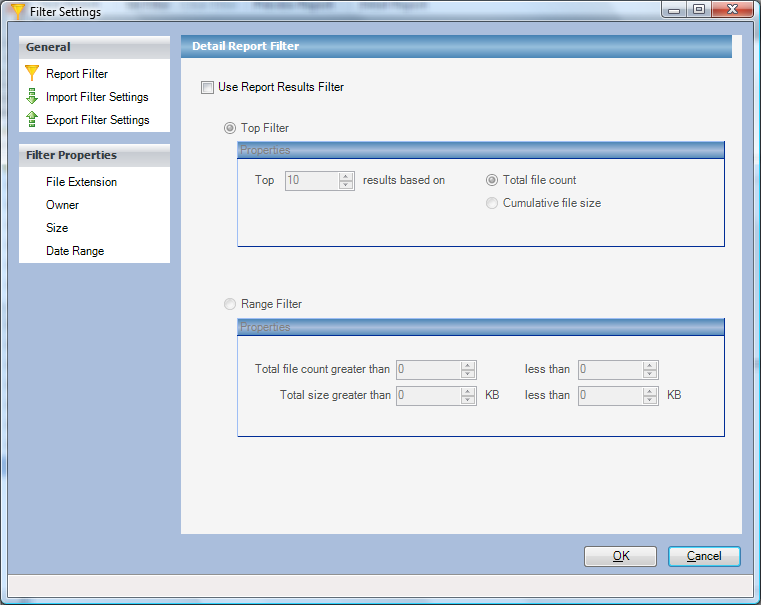 Use Report Results Filter: Selecting this check box enables you to specify Top Filter or Range Filter settings.
Top Filter: Choosing this option activates the Top Filter region, where you can use the Top field to indicate (from 10-1000) the number of entries you want in the report. You can show the total file number (through the Total file count option) or total size (through the Cumulative file size option).
It is essential that you understand that the top 100 entries in a report vary, depending on the report type. For example, an Owner Report lists the top 100 owners, and a Filename Extension Report lists the top 100 filename extensions.
IMPORTANT:Files listed through the Top Filter option are not limited to the constraints you enter in the Top field. As an example, consider a top 100 Owner Report according to file sizes. This generates a report of owners of the 100 largest files of the storage resources included in the report. If you generate a Detail Report, you see all of the files that these owners own—not just their 100 largest files.
Range Filter: Choosing this option activates the Range Filter region, where you can use the Total file count greater than/less than fields to set parameters so that the filter reports on only those files that have a number of copies that fit within a certain total count. Additionally, through the Total size greater than/less than fields, you can set parameters so that all of copies of a file with a cumulative size within a range you specify are reported.
File Extension: Click File Extension to specify filename extensions you want to include in the report. Only one extension can be entered at a time in the Add a Filename Extension field. Do not precede the extension name with a period.
Owner: Click Owner to specify owner names you want to include in the report. Only one owner can be entered at a time in the Add an Owner field.
Size: Click Size to specify file size parameters within the filter.
Date Range: Click Date Range to specify date parameters based on creation, modification, and access dates.
Import Filter Settings: Click Import File Filter to import the parameters of a previously saved filter.
Export Filter Settings: Click Export File Filter to save your parameter settings as a filter file.