The GroupWise 18 Admin API provides you with access to events and actions that occur at the GroupWise Admin console.
The Admin API is available at the following URL:
https://

server_address

:9710/gwadmin-service/static/apidocs/index.html
The main Admin API page appears: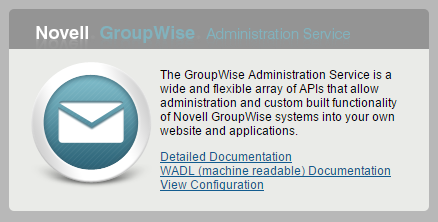 This guide details how to use the Admin API to customize GroupWise administration. In addition, online documentation located on each GroupWise server provides a complete list of Admin API resources through the Detailed Documentation links on the Admin API page.