36.7

Ensuring Successful Name Resolution for GroupWise Resource Groups

When you establish GroupWise resource groups, you establish network names for the locations of domains and post offices. The network names remain constant no matter which node in the cluster the domain or post office is currently active on. Because you are using virtual network names, not physical locations, you must ensure that short name resolution is always successful. For example, in ConsoleOne, if you right-click a Domain object in the GroupWise View and then click Connect, ConsoleOne must be able to resolve the domain database location, as provided in the UNC Path field, to the network name of that domain within your cluster. It is through short name resolution that all GroupWise resource groups are accessed and managed in ConsoleOne.

A client program (such as ConsoleOne) that runs on a Windows workstation, can be configured to use several different short name resolution methods. To see which methods are in use at a particular workstation, view the protocol preferences for the Novell Client that is installed on the Windows workstation:

Figure 36-1 Novell Client Preferences Property Page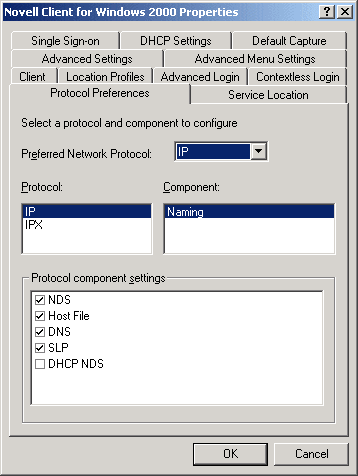 Short name resolution methods that pertain to your clustered GroupWise system are discussed below:
Table 36-1 Short Name Resolution Methods
You can use Novell eDirectory to resolve short names into specific network addresses. However, when using eDirectory for short name resolution, you must remember to consider current context in the name resolution process. eDirectory short name resolution works only if your current context is the same as the context of the eDirectory object you need to access.

Windows XP/Vista uses the \winnt\system32\drivers\etc\hosts file when performing short name resolution at the workstation:

Using this file at the Windows workstation is not a preferred method for short name resolution (except perhaps for the administrator's workstation).

Perhaps the most common short name resolution option is Domain Name Service (DNS). As with the hosts file, it is good practice to place all the network names of your GroupWise resource groups into DNS.

For short name resolution to work using DNS, the client workstation must either belong to the same DNS zone (such as support.novell.com) as the resource group, or the cluster resource zone must be configured in the client's DNS suffix search path under TCP/IP settings for the workstation.
Specific setup instructions for each of these short name resolution methods are provided in Section 37.0, Setting Up a Domain and Post Office in a Microsoft Cluster.
Under Item 6: IP Address Resolution Methods, mark which methods you want to implement in order to resolve the locations stored as UNC paths in ConsoleOne into the network names of the GroupWise resource groups.