1.0

What Is the GroupWise Gateway for Lotus Notes?

The GroupWise® 7 Gateway for Lotus Notes connects a GroupWise system and a Notes system by creating a link between a GroupWise domain and a Notes domain, as shown in the following diagram.

Figure 1-1 Linking a GroupWise Domain and a Notes Domain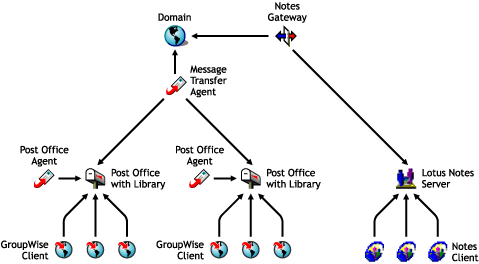 The GroupWise 7 version of the Notes Gateway provides the following capabilities:
Message exchange between users of GroupWise 6.5 and 7.x, and users of Lotus Notes 6.x and 7.x.

Directory exchange, so that GroupWise users can be imported into the Notes Address Book and Notes users can be imported into the GroupWise Address Book. This enables users to select recipients from either system in their respective, familiar Address Books.

Directory synchronization, so that when users are added or removed, or user information is modified, the changes are automatically replicated between the GroupWise and Notes systems. This keeps the GroupWise and Notes Address Books up-to-date for all users.