Click the Manage Configuration link in the TCP/IP Configuration Menu window to display the Manage Configuration Menu window.
Figure 3-9 Manage Configuration Menu Window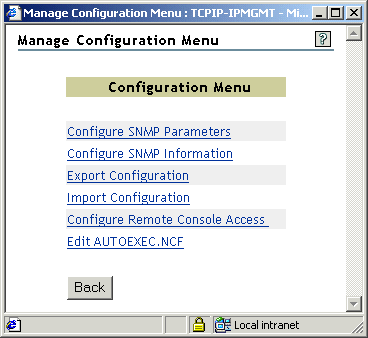 The Manage TCP/IP Configuration window helps you to manage your existing server configurations.
The following options are available in this window:
Configure SNMP Parameters: Lets you enter parameters for snmp.nlm.

Export Configuration: Lets you export the existing server configuration files to a specified location on the NetWare server.

Import Configuration: Lets you import a configuration file and merge it with the existing configuration files.

Configure Remote Console Access: Lets you set the username and password for remotely accessing the server.

Edit AUTOEXEC.NCF: Lets you edit and save the autoexec.ncf file.