4.1

Personal Management Utility

The Personal Management utility interface consists of a title bar, menu bar, panes, and properties tables.

When a folder in the navigation tree is selected, the related information is displayed in the right pane. To display the objects associated with the folders in the navigation tree, click the plus (+) symbol next to the icon to expand its contents. Not all icons are expandable.

Figure 4-1 The Personal Management Utility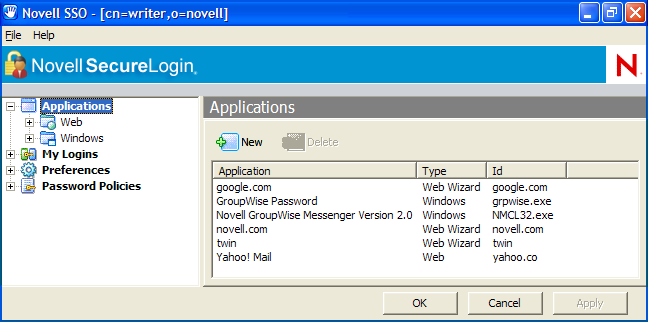 The navigation tree in the left pane contains the following:
Applications

My Logins

Preferences

Password Policies
Changes made by using the Personal Management utility on the local workstation apply only to the currently logged-in user's single sign-on and they override the settings made in the directory. For example, if the Allow users to view Application Definitions preference is set to No at the organizational unit (OU) level where the object resides in, and set to Yes on the actual user object in the directory, the user object setting applies. The user can view the application definitions. Other users in the container cannot view the application definitions unless they have the option set through the user object.
The Personal Management utility is used for:
Providing the users with the capability to configure the Novell® SecureLogin environment and view their credentials.

Testing the Novell SecureLogin configuration before mass deployment.

Creating and modifying the application definitions for testing.

The standalone mode.

Troubleshooting.
For more information see, the Novell SecureLogin 6.1 SP1 Administration Guide.