3.3

What Do Customers Need Support For?

Novell Service Desk has a centralized Configuration Management Database (CMDB) to manage and control infrastructure information. At the simplest level the CMDB can be used to store hardware, software and document asset details. At its most complex, the CMDB can be configured as an enterprise wide IT business service catalogue defining business services and the supporting infrastructure. Essentially, it's a list of 'stuff' to be supported and (potentially) relationships to each other.

Each department or group that you will be meeting will have items that they want supporting. To help focus these meetings, prepare a list of your own based on I.T understanding of the current environment. This should be at a high level looking at categories of items rather than specifics e.g Desktops, Laptops, Desktop applications, Printers etc.. You then can put specific items under each category and add additional categories if needed.

Novell Service Desk already has a number of categories defined which can be used as a starting point.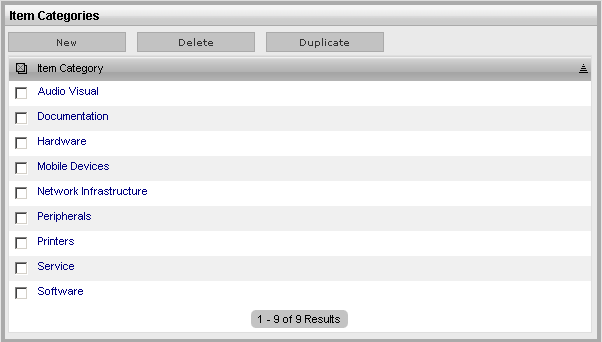 A good place to look for items to put onto the list is a configuration management tool such as Novell ZENworks Configuration Management. You can use this to audit your environment and then generate a report to help create the initial list.
After the initial set of meetings, you should end up with a list similar to the example below:
| | | | |
| --- | --- | --- | --- |
| Hardware | Lenovo W500 | Sales | Standard laptop used by sales teams |
| Hardware | Dell R710 | I.T | ACME corporate standard server |
| Printers | HP LaserJet P4015DN | Marketing | Marketing department printer |
| Software | Salesforce | Sales , Marketing, Corporate | Company wide CRM system |
| Software | Email | All | Company wide email system |
There will be items that the business is not aware of, but I.T are. An example of this would be backups. Make sure that you add these.