IMPORTANT:TeamWorks 18.2.1 is delivered as online updates that are applied on fully deployed and functioning TeamWorks 18.2 appliances.
If you are new to TeamWorks, begin here and install your 18.2 appliances first. Then after your 18.2 deployment is complete and working as expected, follow the instructions in Section 10.0, Updating to TeamWorks 18.2.1.
If you already have a TeamWorks 18.2 deployment and want to move to version 18.2.1, skip to Section 10.0, Updating to TeamWorks 18.2.1.
You can deploy TeamWorks in two different ways.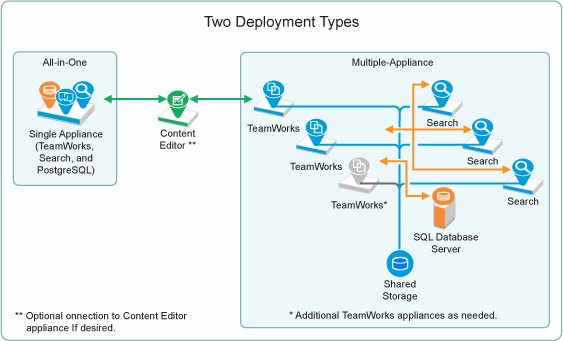 Micro Focus recommends multiple-appliance deployments as a best practice for the reasons in the following comparison table.
One All-in-One Appliance

No fault tolerance—Single Point of Failure

Not expandable beyond a single All-in-One appliance

Multiple Appliances

Fault-tolerant TeamWorks services

Expandable by adding TeamWorks appliances, disk space, or RAM as needs increase
To deploy an all-in-one appliance, follow the instructions in Section A.0, Creating an All-in-One Deployment.
Otherwise, continue with Section 2.0, Planning Is Important.