1.1

How Do I Use the Red N Menu?

Many of the Novell Client features are available when you right-click the

icon in the notification area of the taskbar, located in the bottom right portion of your screen.
Figure 1-1 Red N Icon in the Notification Area of the Taskbar
Right-clicking a Network folder also displays a menu of workstation features, where Novell Client features are preceded by an red N logo.
Figure 1-2 Sample Network Folder Right-Click Menu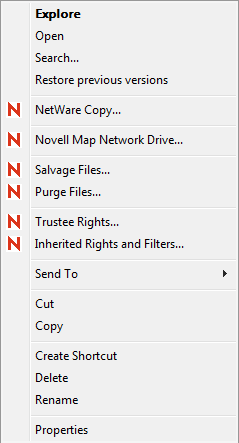 Right-click

in the taskbar to see the following menu:
Figure 1-3 The Novell Client Tray Application Menu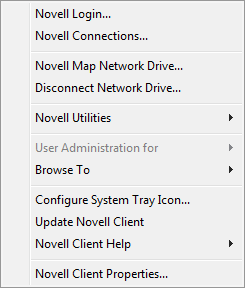 The Red N icon is automatically added to the notification area when you install the Client. If the Red N icon is removed from the notification area for any reason, you can restore it by double-clicking C:\Windows\System32\nwtray.exe in Windows Explorer.