In the Migration Console, click the button to the right of the Select Zone field.
If you have previously selected a destination zone, such as for a pilot migration, a dialog box appears asking if you want to clear the migration status data stored in the ZENworks Asset Management 7.5 source database. This is necessary if you change your migration destination. Click OK to clear the migration status data.
WARNING:You cannot reselect a migration destination. For example, if you choose a pilot migration destination, then switch to a production destination, you cannot switch back to the pilot destination.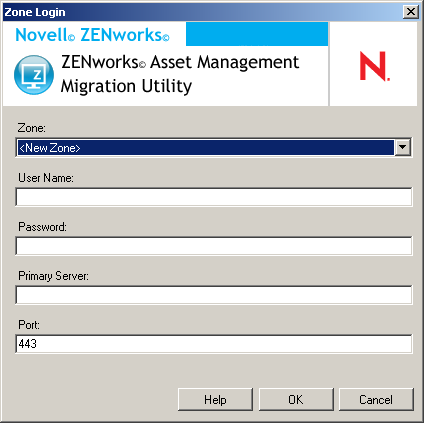 Fill in the following fields to authenticate to your destination Management Zone:
Zone: Specify your Management Zone. This field is not filled in the first time you access the Zone Login dialog box. Thereafter, any zone that you previously logged in to by using this dialog box is available from the drop-down list. Each time you use this dialog box, the last zone that you logged in to is displayed here.
User Name: Specify the username for the zone. Administrator is normally used. If this is the first time you have logged in to this zone by using the Migration Console, nothing is displayed; otherwise, the last username you used is displayed. If you select a Management Zone in the Zone field, this field is automatically populated with the username you last used for that zone.
Password: Specify the password. This must be entered every time to authenticate.
Primary Server: Specify either its DNS name or IP address. This field is automatically populated when you select a Management Zone in the Zone field.
Port: The standard port for the ZENworks Primary Server is 443. If the server is using a different port, specify that port number.