Channel: SUSE Linux Enterprise Desktop
Notice: Undefined index: HTTP_COOKIE in /inet/www/docroot/media/index.php on line 32
In this interview with Lum Osmani, Intelli'N TV - Open World Forum 2011, see what Nils Brauckmann said about the evolution of Linux over the past 20 years, and the opportunities that lie ahead.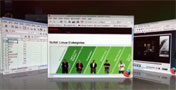 Check out some of the cool new features and functionality that are now available with SUSE Linux Enterprise Desktop from the latest version of OpenOffice.org Novell Edition to Silverlight on Linux with Moonlight 1.0.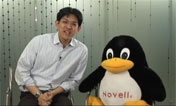 By working with the community and with our customers and partners, we are continuing to improve and enhance SUSE Linux Enterprise Desktop as a desktop solution that is relevant and flexible for business use.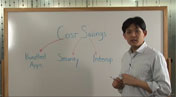 Putting a Linux desktop into context goes beyond just a solid operating system. The latest features can positively impact the IT budget, cutting costs and boosting productivity. Linux today is accessible to the majority of workers, no matter if you're a Linux veteran or considering a switch from an alternative.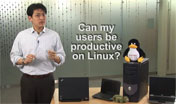 Linux OS might save me money, but isn't it hard to use? Can end users in my company be as productive with Linux? Isn't it easier for me to purchase laptops or desktops with Windows? Watch for answers to these common questions.
In this short video, Grant Ho, Senior Product Marketing Manager at Novell, dispels some myths about the Linux Desktop, provides some interesting facts about Linux adoption and gives viewers some perspective on why Linux on the Desktop is growing and could be right for them.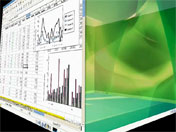 Demonstration of the desktop effects in SUSE Linux Enterprise Desktop.
Bullet-proof Security with User Flexibility in Mind.
Office Suite, Browser, e-mail, etc., For No Extra Cost.
The best-engineered and most interoperable Linux desktop is back–and in today's economy. Come learn about the latest applications, multimedia capabilities, and green IT enhancements of SUSE Linux Enterprise Desktop, and find out how this Linux desktop can help you lower costs in your environment.