Channel: iFolder
Notice: Undefined index: HTTP_COOKIE in /inet/www/docroot/media/index.php on line 33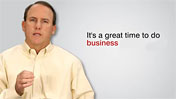 Watch this short video to hear President, Bob Flynn, talk about why now is a great time to do business with us.
Hear our focus from President and General Manager, Bob Flynn.
Learn about Micro Focus iFolder - one of the key capabilities in Open Enterprise Server.
In this engineer-to-engineer session, you'll explore Micro Focus iFolder 3.7 capabilities, including creating, sharing, and merging folders and resolving file conflicts. You'll also see the Web admin console and learn how to provision and manage users, create policies and balance server loads.