Doe uw voordeel met razendsnelle voorspellende applicatiestreaming
Dankzij voorspellende applicatiestreaming worden applicaties op basis van gebruikersgedrag geleverd
Novell ZENworks Application Virtualization gebruikt een geavanceerd profileringsalgoritme waarmee applicaties op basis van gebruikersgedrag worden ontwikkeld. Hierdoor is het mogelijk om op code-eisen te anticiperen. Het resultaat hiervan is dat applicatiecode voorspellend kan worden gestreamd op basis van het daadwerkelijke gedrag van de gebruiker. Dankzij voorspellende applicatiestreaming hebt u geen last van de latentie die bij andere producten komt kijken.
Applicatiestreaming omvat de volgende functies:
Applicatieprofielfunctie
Met de applicatieprofielfunctie kunt u een streamingmodel ontwikkelen waarmee het gebruikersgedrag wordt voorspeld, zodat het streamen van applicaties snel en vloeiend verloopt. Met deze voorspellende streaming worden uw applicaties sneller dan ooit uitgevoerd.
Meerdere streamingmodi
Uitvoeren in de modus No Cache, Cache Prefetch of Register Local. U bepaalt of en hoe gestreamde applicaties lokaal worden opgeslagen.
Hoge gebruiksratio gebruiker/server bij streaming
Ratio's tot 10.000 gebruikers per server.
Algemene netwerkprotocollen voor streaming
Gebruik HTTP, SMB en CIFS standaardprotocollen voor het streamen van applicaties—of elk ander protocol dat aan een Windows UNC pad kan worden gekoppeld.
U kunt het streamen van applicaties hier uitproberen.
Stap zonder agent over op virtuele applicaties Implementeer gevirtualiseerde applicaties eenvoudig in uw bestaande IT-omgeving zonder dat u aanvullende agents, stuurprogramma's of virtuele systemen hoeft te installeren. Meer informatie
Vervang applicatieconflicten door een superieure applicatiebeveiliging Dankzij Novell ZENworks Application Virtualization kunt u eenvoudig applicaties in een geïsoleerde omgeving uitvoeren die immuun is voor conflicten met andere applicaties. Meer informatie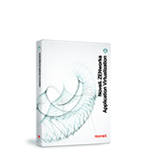 Laat u door ons terugbellen
* Verplichte velden