GroupWise Domain path changes back to root whenever it is set.
This document (7002582) is provided subject to the disclaimer at the end of this document.
Environment
Novell GroupWise 7
Novell GroupWise 8
Novell GroupWise 6.5
Novell Open Enterprise Server (Linux based)

Situation
Domain path changes back to root whenever it is set.
Change to GroupWise Domain path does not save when set in ConsoleOne

Resolution
Under GroupWise System Operations | System Preferences | Linux Settings change the Linux Mount Directory to a valid path such as /mnt.
This option is only available with the Linux snapins.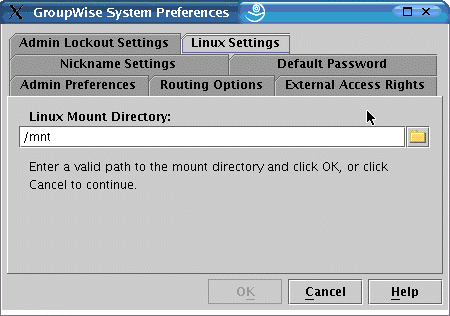 Mount Directory: Specify the mount directory where ConsoleOne can find mounted file systems where domains and post offices are located.
GroupWise databases can be located on Linux servers, NetWare servers, or Windows servers. In the Linux mount directory, you create directories that have the same names as the servers that are mounted to those mount points. You do this for each server where a domain or post office is located that you want to access from ConsoleOne.
GroupWise administrators can have different mounts points depending on the workstation or server where they are running ConsoleOne. The mount directory information is stored in a user-specific preferences file (.consoleone/SnapinPrefs.ser in each GroupWise administrator's home directory).

Additional Information
This happens if you have your Linux Mount Directory set to be the same as your domain directory.
Formerly known as TID# 10093838
Disclaimer
This Support Knowledgebase provides a valuable tool for NetIQ/Novell/SUSE customers and parties interested in our products and solutions to acquire information, ideas and learn from one another. Materials are provided for informational, personal or non-commercial use within your organization and are presented "AS IS" WITHOUT WARRANTY OF ANY KIND.
Document ID:7002582
Creation Date:06-FEB-09
Modified Date:26-APR-12
Did this document solve your problem? Provide Feedback