69.11

Monitoring Messenger Agents

Monitor can be used to monitor Messenger agents as well as GroupWise agents. In fact, Monitor can be used independently to monitor Messenger Agents. If you start Monitor with no access to the GroupWise system, you are prompted for the information Monitor needs in order to start monitoring Messenger agents.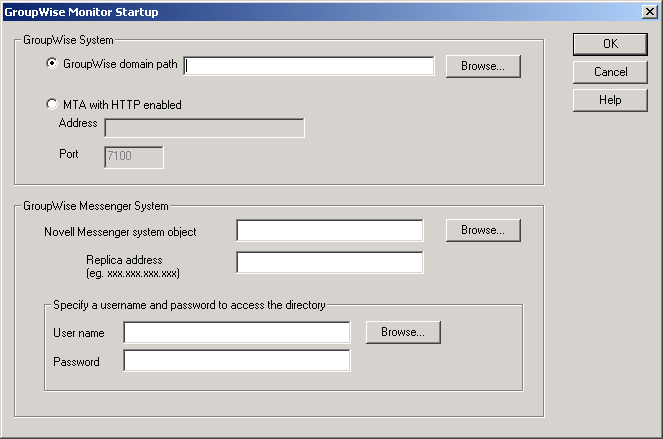 To make this information a permanent part of your independent Messenger system, follow the instructions in Using GroupWise Monitor in Managing the Messaging Agent in the Novell Messenger 2.2 Administration Guide.
If Monitor is already monitoring GroupWise agents, then it is easy to add Messenger agents.
On Windows, at the Monitor Agent server console, click Configuration > Add Novell Messenger System.

or

On Linux, at the Monitor Agent Web console, click Preferences > Add Agents.

Fill in the following fields in the GroupWise Monitor Startup dialog box or the Add Novell Messenger System dialog box:

Novell Messenger System Object: Browse to and select the eDirectory container where you created the Messenger system.

User Name: Browse to and select a User object that has sufficient rights to enable the Monitor Agent to access Messenger object properties in eDirectory.

Password: Specify the network password associated with the User object.

Replica Address: Specify the IP address of a server where an eDirectory replica is available.

Click OK to add the Messenger Agent and the Archive Agent to the list of monitored agents.