3.1

Basic System Overview

A basic GroupWise system consists of a single domain (the primary domain) with one post office, a document library, and one or more users, as shown below.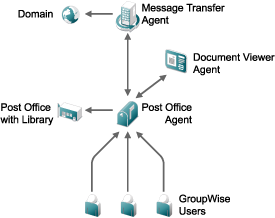 Each GroupWise user has a mailbox in the post office. Users run the GroupWise client on a personal workstation or use GroupWise WebAccess in a Web browser (wherever an Internet connection is available) in order to access their mailboxes and to send and receive mail.
Three agents are installed in a basic GroupWise system:
Post Office Agent (POA): Responds to the GroupWise clients' requests for mailbox data and delivers messages between users' mailboxes in a post office.

Message Transfer Agent (MTA): Routes messages between post offices (if there is more than one post office in the domain) and between domains (if there is more than one domain in the system).

Document Viewer Agent (DVA): Converts attached document files into HTML format for display in GroupWise WebAccess and for indexing by the POA, if the POA has been configured to use it.
After you finish setting up your basic GroupWise system, you can review Section 3.5, What's Next to learn how you can expand your GroupWise system.