Recovering Domain or Post Office Databases
The database recover process corrects physical problems in the database structure, but does not update incorrect information contained in the database.
If you receive an administrative message informing you that an internal database error has occurred, or if you detect database damage and don't want to take users out of GroupWise, you can recover the database. If no errors are reported after the recover process, you will not need to take further action.
The recover process is run against a copy of the domain database (wpdomain.db) or post office database (wphost.db). Therefore, while the recover process is being run, you can continue to access the database through ConsoleOne and you do not need to stop the MTA or the POA.
As the copy of the database is created, the recover process skips invalid records. If the number of records in the original wpdomain.db file or wphost.db file is different from the number in the new, valid copy, GroupWise will send an administrative message informing you that data has been lost. When the recover process is completed, the backup database will be deleted.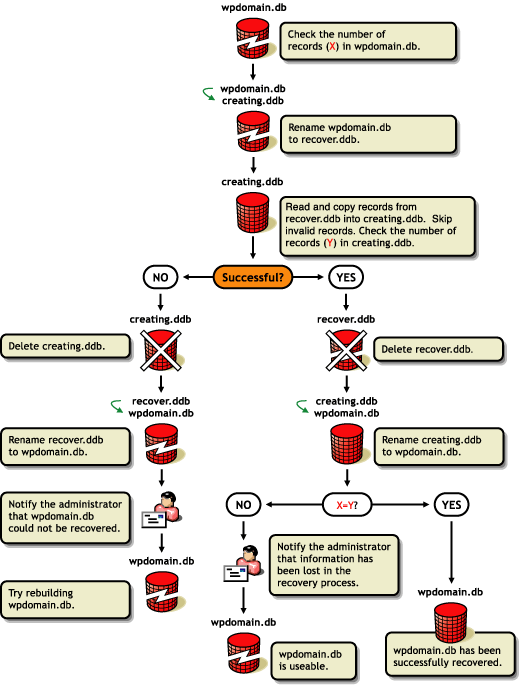 For convenience, the agents are configured by default to automatically recover domain and post office databases whenever a physical problem is encountered. See Recovering the Domain Database Automatically or Immediately and Recovering the Post Office Database Automatically or Immediately.
To recover a specific database in ConsoleOne:
If recovery is successful, the backup database is deleted, and the new domain database is renamed to wpdomain.db, or the new post office database is renamed to wphost.db.
If recovery fails for any reason, the backup database will be copied back to wpdomain.db or wphost.db. If any data was lost, you will be notified by an administrative message.
You have several options for retrieving lost data from other sources: