iFolder provides secure access to the data via SSL. However, this channel uses the public network if the user accesses the data from a public Internet kiosk. Nevertheless, your business must be accessible to employees, customers, and partners, regardless of location or time of day. Novell Access Manager solves this challenge by helping you maximize access without limiting security or control. It integrates seamless security from Novell, which lowers risk and facilitates more agile customer and partner relationships. It simplifies and safeguards online asset-sharing, giving you a new way to control access to Web-based and traditional business applications. Trusted users gain secure authentication and access to portals, Web-based content, and enterprise applications. Also, IT administrators gain centralized policy-based management of authentication and access privileges for Web-based environments and enterprise applications.
iFolder needs some additional configuration if Access Manager or iChain is used to secure the Web application access. Users logging in via Access Manager can use single sign-on so that password management is made simpler.
Because Access Manager interfaces with iFolder, iFolder needs to know certain configuration settings of Access manager to function efficiently. For more information, see Section 13.3, Additional Configuration.
Figure 13-1 Deployment Behind Access Manager iChain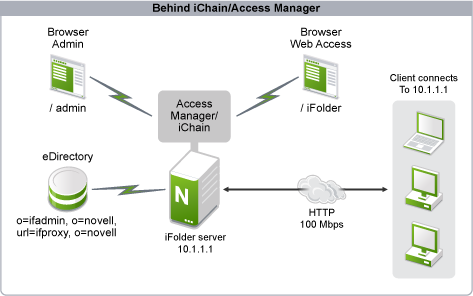 The following sections describe iFolder deployment behind Access Manager or iChain.