6.1 E-mail and Calendering with Novell Evolution
Information is useless unless it's organized and accessible. Novell Evolution™ makes the tasks of storing, organizing, and retrieving your personal information easier so you can work more efficiently and communicate with others.
Figure 66 Novell Evolution Main Mail Window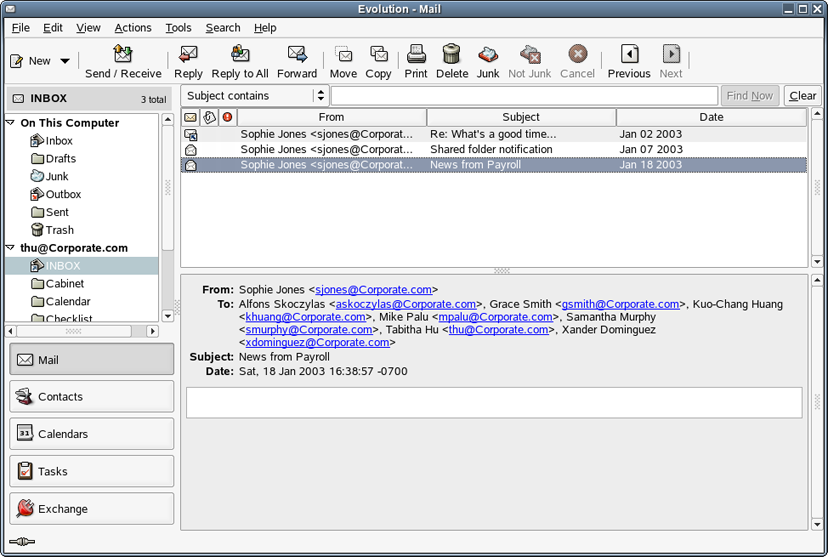 Evolution can help you work in a group by handling e-mail, address, and other contact information, as well as one or more calendars. It can do all this on one or several computers, connected directly or over a network, for one person or for large groups.
With Evolution, you can accomplish your most common daily tasks faster. For example, it takes only one or two clicks to enter appointment or contact information sent to you by e-mail, or to send e-mail to a contact or appointment. Evolution makes displays faster and more efficient, so searches are faster and memory usage is lower. People who get a lot of mail will appreciate advanced features like VFolders, which lets you save searches as though they were ordinary mail folders.
6.1.1 Starting Evolution for the First Time
To start Evolution, click ProgramsNovell Evolution on the menu panel.
The first time you run the program, it creates a directory called .evolution in your home directory, where it stores all of its local data. Then, it opens a first-run assistant to help you set up mail accounts and import data from other applications. Using the first-run assistant should take approximately two to five minutes.
Later, if you want to change this account or create a new one, click ToolsSettingsMail Accounts. Then select the account you want to change and click Edit, or click Add to configure another account.