Figure 3-8 Print Services Manager Internal Page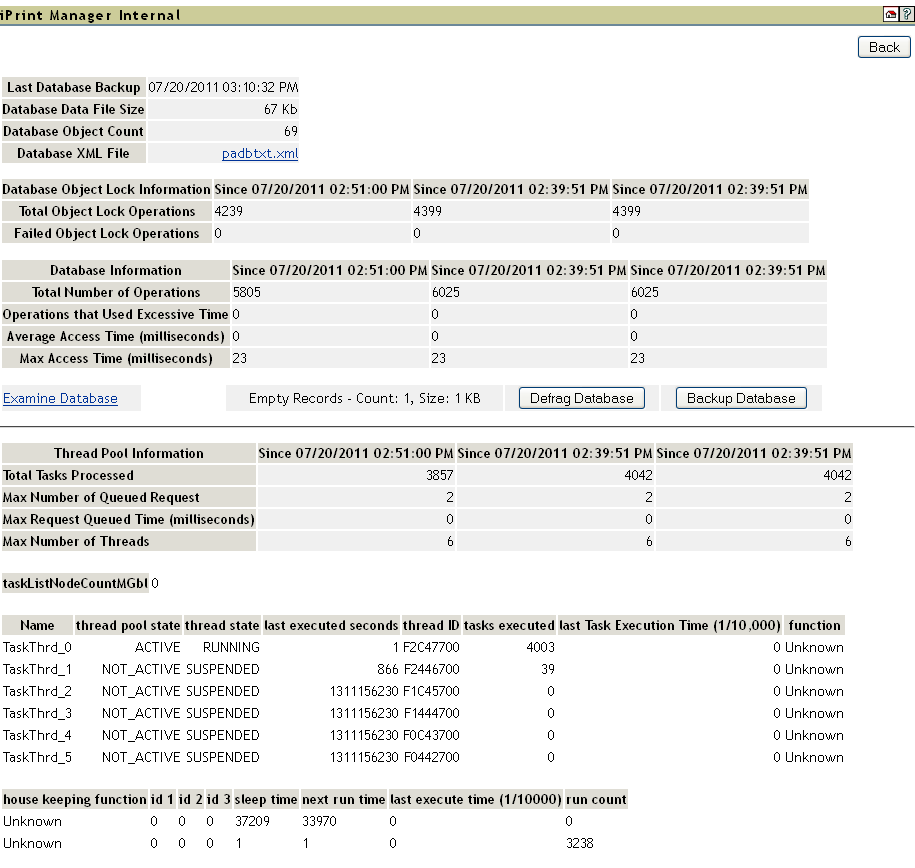 Database Backup and File Size Information
Displays general information about the iPrint Manager's database. The index file and the data file together comprise the iPrint Manager's database. The index should be roughly one-tenth the size of the Database Data File Size.
A large index file is indicative that a large number of database objects have been deleted. While this does not affect performance, you can resynchronize the database to update the index file size, if necessary.
Database Lock Operations
The iPrint Manager uses locks when accessing objects in its database. If the lock for an object cannot be acquired, the object cannot be accessed and that database operation fails. Database Lock Operations displays how many object lock operations have been attempted and how many have failed for the specified time.
Database Information
Displays statistics on the performance of the iPrint Manager's database. Excessive time is defined as 10 seconds. The Average Access Time should be 0 (zero).
Statistics for the Max Access Time are expected, and most entries are associated with file system backups.
Examine Database
Links to a page that gives details about the database objects.
Thread Pool Information
The iPrint Manager has a thread pool that it uses to process a variety of tasks. This table displays some statistics to monitor the performance and load on this thread pool.
Table 3-10 Thread Pool Task Information
Total Tasks Processed

Total number of tasks that have been processed by the thread pool since the referenced time.

Max Number of Queued Requests

Maximum number of request that were queued up (waiting) to be processed.

Max Request Queue Time

Longest time that a task waited to be processed.

Max Number of Threads

The iPrint Manager has the ability to create and to destroy threads for the thread pool as needed. The minimum number of threads in the thread pool is two. Max Number of Threads displays the maximum number of threads that were needed to process tasks.

If this number consistently exceeds five, you should monitor the print system's performance and determine if you need an additional iPrint Manager.