Prerequisites
On the Retain Server: Under Server Configuration | Communications | Retain Server Connection, set the Server Protocol (http or https), Retain Server Host (IP or hostname of the Retain server), Retain Server Port (default: 48080), and Retain Server Path (default: /RetainServer).

On the Workstation: Install:
Retain Outlook Plugin Installation
If deploying to an individual user on a workstation, the Outlook plugin needs to be installed by the user account that will be using it (HKEY_CURRENT_USER), and administrator credentials will be required to be entered during the installation process.
If deploying to multiple users on a single workstation a group policy will need to be created to set the registry keys needed by the Outlook plugin across all users. The October 2017 updates of Office and Windows have caused some issues that may need workarounds.
If deploying from a distribution server, utilize the MSI installer package. In addition, silent install commands are provided. A full list of silent install commands can be found in the Silent Install section below.
Make sure to utilize the correct version of the installer to match the bitness (32-Bit or 64-Bit) of the version of Outlook, not the operating system, the workstation has installed.
Begin the installation, accept the license agreement, and click 'Next'.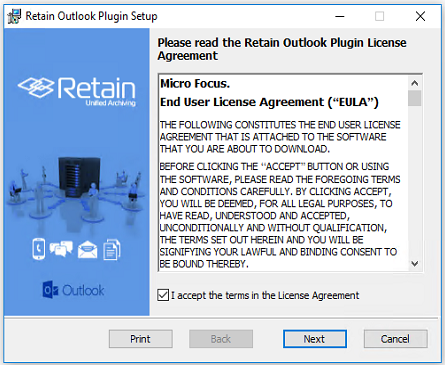 Select whether the installation will be system wide or restricted.
The Retain Outlook Plugin may be customized during installation, to only allow certain functions once installed.
Retain server URL: this is the connection address for the Retain Server. Do not put the '/RetainServer/' suffix on the end of the URL. Use the following syntax:
https://<Retain_Server_URL>
Please Select the Outlook Plugin to Install: There are two options for the plugin. Retain Download allows the user to download data from the Retain server to their workstation. Retain Archive opens the Retain interface in the Outlook window
Download Retain Data on Outlook Startup: This tells the Retain plugin to match the local data with what is in the Retain Server. This does not push any data from the plugin to the Server. The plugin may be configured to download at start, or on an automatic time period. The setting is designated in hours.
Allow users to change settings: If checked, the following selected options are available to be changed by the user in the plugin. If this option is not checked, the options will be grayed-out in the settings section of the plugin, and cannot be modified.
Configure as desired and select 'Next'.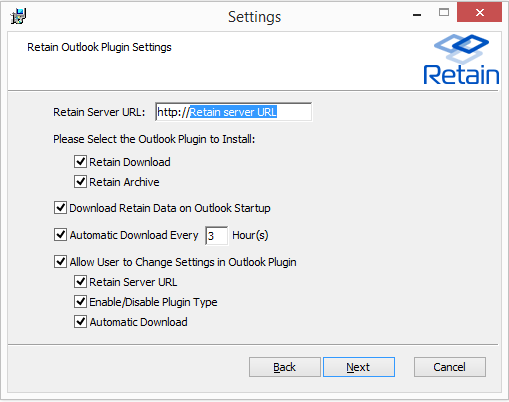 If any settings need to be changed, use the 'back' button and change then.
Select the 'Install' button to begin the plugin installation. (Installation will require admin rights.)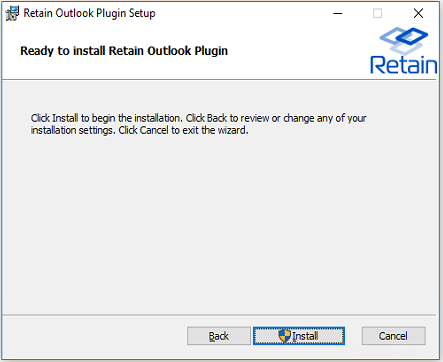 Wait for the plugin to install.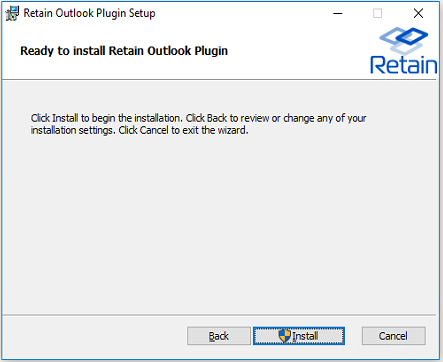 Once the install has completed, select 'Finish' to exit the installer.