The Retain ribbon has a number of available functions. These may be restricted by your System Administrator.

The other buttons under the Retain tab:
Retain Archive will open your Retain archive mailbox in your browser.

Retain download will manually download messages from Retain if you want to update right now.

Quick search will perform a search of the last 6 months of your downloaded messages.

Plugin settings is where you set the URL to the Retain Server and other settings like Language. Generally, only your system Administrator will need to change these settings.

Download settings allows you to customize how many and how often messages are downloaded.

About tells you which version of the plugin is installed.
Download Settings
From this dialog box you can set certain behaviors for the Retain Outlook Plugin.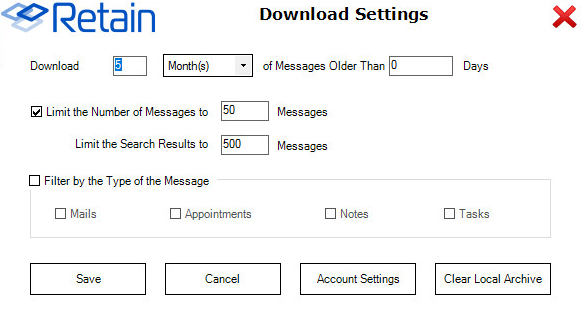 Download: The number of Days, Weeks, Months, or Years of data to download can be set. Default, 5 Months
Messages Older than: How many days back that can be ignored can be set as well. For example, you might want to look back into the archive for 3 months of items but you don't need the last 30 days. Default, 0 Days.
Limit the Number of Messages to: How many messages to download to you workstation. Outlook does not like to deal with very large local storage files so it is best to keep this number small. Default, 50 messages.
Limit the Search Results to: This will limit the number of messages downloaded after a search. Default, 500 messages
Filter by the Type of the Message: You can restrict the plugin to Mail, Appointments, Notes, and/or Tasks. With this optioned checked, you will have to check which items are to be downloaded. Default, all unchecked, so all items will be downloaded.
Clear Local Archive: This will empty the local archive folder on your workstation of all items, and folders except the default set of folders. To remove all folders the plugin will need to be uninstalled.
Plugin Settings
This dialog box allows more general changes to the Retain Plugin.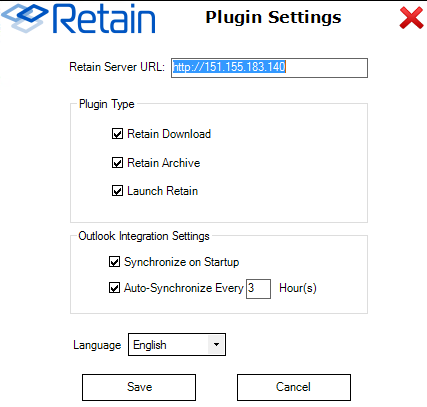 Retain Server URL: This is the IP address or Host name of the Retain Server where the archive is stored. Your system administrator will provide or set this for you.
Retain Download: This allows the plugin to add the Retain Download folders to Outlook.
Retain archive: This enables the Retain Archive button that opens your Retain archive mailbox.
If Outlook Integration is enabled:
Synchronize on Startup: When Outlook starts up, the plugin will check for new items in the Retain Archive.
Auto-Synchronize Every "3" Hours: The plugin will check for new items in the Retain archive every 3 hours by default.
Language
You can select the following languages for display in the Outlook interface: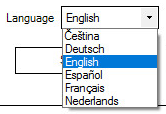 Czeck
German
English
Spanish
French
Dutch