GWAVA 6 Migration Tool
On the Secure Messaging Gateway server, log into Secure Messaging Gateway System Administration.
Select System Management | GWAVA 6 Migration
The migration tool is locked for security reasons. To unlock the tool, log into the SMG terminal and run the command: /vastorage/smg/assets/bin/linux/scripts/migration_enable
There are two choices:

Migration Tool will open a new window to begin the process.
Tool Removal will clean up the migration files and remove the menu item.
By selecting the migration tool you will be given an instruction page.
The migration tool will migrate:
GWAVAMAN database

Quarantine Management System Database(s)

and/or User Exceptions Database.
The migration tool will not migrate:
SSL certificates

QMS data

IP Settings

Custom notifications

Message Tracker data

Interfaces

Connection drop settings

Spam reporting

Conversation tracking

SMTP relay configuration

Proxy configuration

Reporting
Click on the next arrow (>>) to continue
Configure GWAVA 6 Database Connections
Enable a database to reveal its settings. The migration toll can be run as often as desired, so piecemeal migrations are acceptable.
For internal ( sqlite) databases, you will need to upload the databases onto the Secure Gateway server so it can access the file directly. Uploading is easily done with the options provided in this toolkit. The files that are required can be located at the following locations on your GWAVA 6 server. On linux, [gwavaroot] will be /opt/beginfinite/gwava and on Windows it will be \Program Files\GWAVA\GWAVA.
GWAVAMAN database file: [gwavaroot]/config/gwavaman.db

QMS User database file: [gwavaroot]/services/qms/data/db_setup/userdb.sqlite3.xml

QMS User database file: [gwavaroot]/services/qms/data/qms_user.db

QMS Digest database file: [gwavaroot]/services/qms/data/qms_digest.db

QMS User Exceptions Database file: [gwavaroot]/services/qms/data/user_exception.db. The user exceptions database is only stored in an SQLite database file and must be uploaded.
For postgres, provide the required information for the database connection.
If you are using the GWAVA 6 Appliance where postgres is the default use the following default values:
Database name: GWAVA

Database login name: gwava

Database login password: gwava
Otherwise, provide the connection information to the database used by the GWAVA 6 server.
Press Test connection to determine if the database can be accesses by Secure Messaging Gateway.
Press next (>>) to continue. If not all databases are filled in then a warning will appear.
Import Filter Setup
The migration tool can inspect the GWAVA system before importing the data.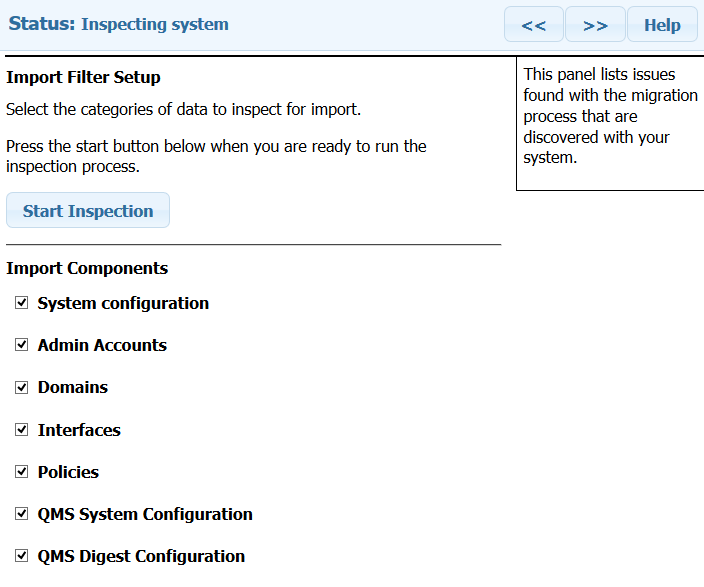 Review the resulting report. The panel at the top right provides detailed information about each section of this migration.
Start the Migration
Click next (>>) to begin the migration. A warning will appear.
Migration Complete. This will provide a log of the actions taken including the pre-migration inspection.
Post-migration Tasks
Check that the items were migrated correctly. Migrated data will be marked as (Migrated). For example: mta scan (Migrated).