3.3

Editing Profiles

AppArmor enables you to edit Novell AppArmor profiles manually by adding, editing, or deleting entries. To edit a profile, proceed as follows:
Start YaST and select Novell AppArmor > Edit Profile.

From the list of profiled applications, select the profile to edit.

Click Next. The AppArmor Profile Dialog window displays the profile.

In the AppArmor Profile Dialog window, add, edit, or delete Novell AppArmor profile entries by clicking the corresponding buttons and referring to Adding an Entry, Editing an Entry, or Deleting an Entry.

When you are finished, click Done.

In the pop-up that appears, click Yes to confirm your changes to the profile and reload the AppArmor profile set.
HINT: Syntax Checking in AppArmor
AppArmor contains a syntax check that notifies you of any syntax errors in profiles you are trying to process with the YaST AppArmor tools. If an error occurs, edit the profile manually as root and reload the profile set with rcapparmor reload.
3.3.2

Editing an Entry

When you select Edit Entry, the file browser pop-up window opens. From here, edit the selected entry.

In the pop-up window, specify the absolute path of a file, including the type of access permitted. You can use globbing if necessary. When finished, click OK.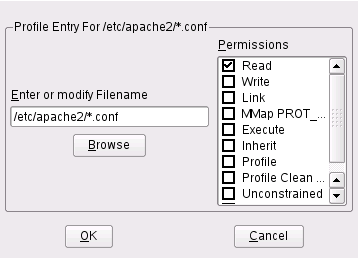 For globbing information, refer to Section 2.1.2, Paths and Globbing. For file access permission information, refer to Section 2.1.3, File Permission Access Modes.
3.3.3

Deleting an Entry

To delete an entry in a given profile, select Delete Entry. AppArmor removes the selected profile entry.