9.0

Generating Reports

This release of ConsoleOne® includes some predefined report forms that you can use to generate reports on the objects in your eDirectory™ tree. Here's an example of one such report:

Figure 9-1 Trustee Assignments Report Dialog Box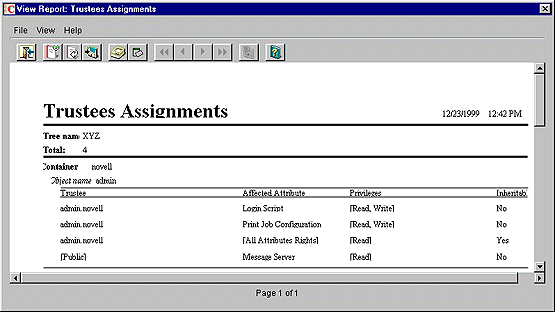 The predefined eDirectory report forms are packaged into three report catalog objects that you can add to your eDirectory tree. Other Novell® products might provide additional report catalogs that you can add to your tree. If you add the JReport* Designer tool (purchased separately) to your ConsoleOne installation, you can also design custom reports from scratch.
NOTE:Currently, you can generate reports only when running ConsoleOne on a Windows* computer that's configured as explained in Section 9.2, Setting Up Reporting. You can't generate reports when running ConsoleOne on a NetWare® server.
In This Chapter