5.11

Triggered Reports

Effective network storage management includes ongoing vigilance in monitoring your storage growth. But sometimes regular reviewing of reports generated through Novell File Reporter may be delayed or overlooked. Fortunately, Novell File Reporter can generate triggered reports that run when storage capacity thresholds are met on a volume and then notify you of these triggered reports. Triggered reports include Duplicate File Reports, Owner Reports, Modification Date Age Reports, Filename Extension Reports, and Access Date Age Reports.

You define the storage threshold at which the triggered report is to be run. For example, if you want to know when a volume reaches 80% capacity, you simply enter that setting in the administrative interface. Then, when a scan discovers that a volume on the network being monitored through Novell File Reporter has reached 80% capacity, the triggered report runs at the time you selected. The next time you sign into NFRAdmin you are notified that this report has been run and is ready to be viewed.

Like other reports, you can apply a filter to the report before it is run, so you can view the information most useful to you after the report has been generated. For example, if you set the parameter for an Owner Report to be generated when a volume reaches minimum capacity, you can filter it so that it shows the owners of the 100 largest files that have not been accessed in 12 months.
5.11.1

Parameters for Triggered Reports

Novell File Reporter has two capacity parameters that it monitors for triggered reports. These are Warning and Critical, which by default are set at 75% and 85% respectively, but they can be modified to your preferences.

Figure 5-3 Warning Limit and Critical Limit settings for triggered reports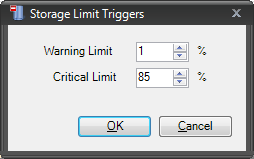 As a best practice, you should have Novell File Reporter trigger certain reports when each of the capacity settings is met. For example, when the Warning capacity is met on a particular volume, you can have Novell File Reporter trigger an Owner Report, to identify the people using the largest amount of network storage disk space. You can then contact them and ask them to clean up their storage.
If the Full capacity is met, you might need to take more drastic action and trigger an Access Date Age Report and Duplicate File Report to see what you can move off of your primary storage immediately so you can obtain needed capacity.
5.11.2

Verifying or Resetting Parameters for Triggering Reports
Launch NFRAdmin.

Click Trend Data.

In the Trend Data region of NFRAdmin, click Edit Limits.

View the default settings and reset them to a setting you prefer.

Click OK.
5.11.3

Setting Up Triggered Reports
Launch NFRAdmin.

Click Administration.

Click Report Triggers.

The following dialog box appears:

In the Report Triggers region, indicate the reports to be generated when the disk capacity percentage for the Warning trigger is met.

For each selected report, complete the associated parameters for the report, including the filter.

Click Apply.