1.6

Displaying the QuickViewer for Folder Items

Use the QuickViewer to scan the contents of your items in a folder. The QuickViewer saves time because you don't need to open each item; you simply click an item or press the Down-arrow key to read your items.

If you click a document reference, the document displays in the QuickViewer. You can display an item's attachment by clicking the attachment in the drop-down list on the QuickViewer tool bar. OLE attachments, however, do not display in the QuickViewer.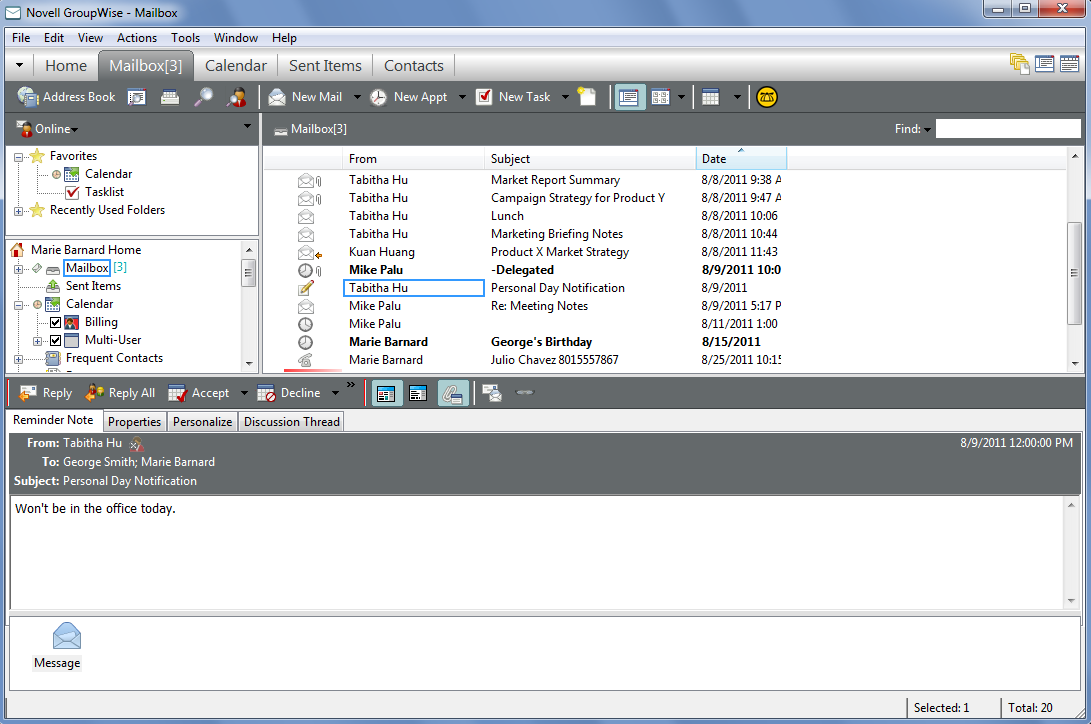 1.6.1

Turning the QuickViewer On and Off
Click View, then select QuickViewer.

or

Click on the toolbar.
1.6.2

Positioning the QuickViewer
Click Tools > Options.

Double-click Environment, then click the Appearance tab.

Select whether you want the QuickViewer displayed at the bottom or at the right of the folder.
1.6.3

Using the QuickViewer
Size the QuickViewer by dragging a corner of the window or by dragging the horizontal dividing line up or down.

If you size and close the QuickViewer, it is the same size when you open it again. Size it by dragging a corner of the window, not by clicking the maximize button.

In the Mailbox, click an item that you want to read.

or

In the Calendar, click an appointment that you want to see details for.

To view an attachment, click the drop-down list on the QuickViewer header, then click the attachment. You cannot open OLE attachments in the QuickViewer.

To change how information displays in the header, right-click the header and choose the options you want to set.

Right-click in the QuickViewer to choose other options.

To close the QuickViewer, click on the toolbar.
When you read an item in the QuickViewer, the icon changes to the opened status. For example, the closed envelope representing a mail message changes to an opened envelope.
You can specify that some folders show QuickViewer every time you open them, while others never show QuickViewer.