1.1

Benefits of iFolder for the Enterprise

Benefits of iFolder to the enterprise include the following:
1.1.1

Seamless Data Access

Novell iFolder greatly simplifies the IT department's ability to keep users productive. It empowers users by enabling their data to follow them wherever they go.

The days of users e-mailing themselves project files so they can work on them from home are gone, along with the frustration associated with sorting through different versions of the same file on different machines. iFolder stores and synchronizes users' work in such a way that no matter what client or what location they log in from, their files are available and in the condition that they expect them to be. Users can access the most up-to-date version of their documents from any computer by using the iFolder client or by using Web Access.

Figure 1-1 Novell iFolder 3.7 Access Methods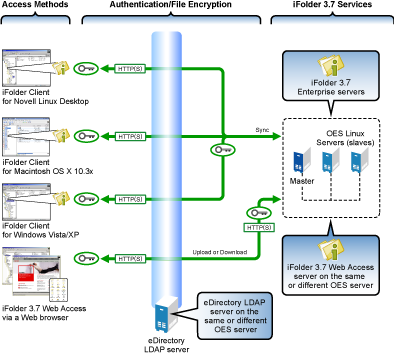 1.1.2

Data Safeguards and Data Recovery

With Novell iFolder, data stored on the server can be easily safeguarded from system crashes and disasters that can result in data loss. When a user saves a file to an iFolder on a local machine, the iFolder client can automatically update the data on the iFolder server, where it immediately becomes available for an organization's regular network backup operations. iFolder makes it easier for IT managers to ensure that all of an organization's critical data is protected.
1.1.3

Reliable Data Security

With Novell iFolder, LDAP-based authentication for access to stored data helps prevent unauthorized network access.
1.1.4

Encryption Support

In a corporate environment, enterprise-level data is generally accessible to the IT department, which in turn can lead to intentional or unintentional access by unauthorized personnel. Because of this, executives have been hesitant to store some confidential documents on the network.

With encryption support, iFolder ensures higher security for users' confidential documents by encrypting them at the client side before transferring them to the server. Data is thus stored encrypted on the server, and is retrievable only by the user who created that iFolder.

iFolder makes it easier for IT managers to ensure that all of an organization's critical data is protected on the iFolder servers without involving any significant risks. iFolder also gives Internet Service Providers (ISPs) the ability to offer a user-trusted backup solution for their customers' critical business or personal data.
1.1.5

Productive Mobile Users

A Novell iFolder solution makes it significantly easier to support mobile users. VPN connections are no longer needed to deliver secure data access to mobile users. Authentication and data transfer use Secure Sockets Layer (SSL) technology to protect data on the wire.

Users do not need to learn or perform any special procedures to access their files when working from home or on the road. iFolder does away with version inconsistency, making it simple for users to access the most up-to-date version of their documents from any connected desktop, laptop, Web browser, or handheld device.

In preparation to travel or work from home, users no longer need to copy essential data to their laptop from various desktop and network locations. The iFolder client can automatically update a user's local computer with the most current file versions. Even when a personal computer is not available, users can access all their files via Web Access on any computer connected to the Internet.
1.1.6

Cross-Platform Client Support

The iFolder client is available for Linux, Macintosh and Windows desktops. The Novell iFolder 3.7 Web Access server provides a Web interface that allows users to access their files on the enterprise server through a Web browser on any computer with an active network or Internet connection.
1.1.7

Scalable Deployment

iFolder easily scales from small to large environments. You can install iFolder on multiple servers, allowing your iFolder environment to grow with your business. A single iFolder enterprise server handles unlimited user accounts, depending on the amount of memory and storage available. Users in an LDAP context can be concurrently provisioned for iFolder services simply by assigning the context to an iFolder server.
1.1.8

Multi-Server Support

Handling large amount of data and provisioning multiple enterprise users in a corporate environment is a major task for any administrator. iFolder simplifies these tasks with multi-server configuration. Multi-server support is designed exclusively for meeting your enterprise requirements. It serves the purpose of provisioning many users and hosting large amount of data on your iFolder domain. You can scale up the domain across servers to meet enterprise-level user requirements by adding multiple servers to a single domain. This will allow you to leverage under-utilized servers in an iFolder domain. With multi-server deployment, thus, Enterprise level provisioning can be effectively managed and Enterprise level data can be scaled up.
1.1.9

Multi-Volume Support

One of the key features of iFolder is its storage scalability. With multi-volume support, Internet service providers and enterprise data centers can manage large amounts of data above the file system restrictions per volume. This facilitates moving data between the volumes, based on file size and storage space availability.
1.1.10

Enhanced Web Administration

Management of all iFolder enterprise servers is centralized through the enhanced iFolder Web Admin Console. Administrators can perform server management and maintenance activities from any location, using a standard Web browser. iFolder also frees IT departments from routine maintenance tasks by providing secure, automatic synchronization of local files to the server.
1.1.11

No Training Requirements

IT personnel no longer need to condition or train users to perform special tasks to ensure the consistency of data stored locally and on the network. With Novell iFolder, users simply store their files in the local iFolder directory. Their files are automatically updated to the iFolder server and any other workstations that share the iFolder. iFolder works seamlessly behind the scenes to ensure that data is protected and synchronized.
1.1.12

LDAPGroup Support

Provisioning and de-provisioning users separately is a task in itself when the total number of users are more. Even while sharing a particular file with 10 or 20 members of a same team, you need to select all members separately and then share. With the LDAPGroups feature, all the above problems are resolved. You can use the group facility for provisioning and de-provisioning, for setting same policy for a set of users. The users can share the iFolders with multiple users using groups.