Use the Service Location Protocol (OpenSLP) Settings page in the Novell Client Configuration Wizard to specify where and how the Client requests network services.
In an IP-only network, the Novell Client needs a way to resolve the eDirectory tree, context and server names to an actual IP address of an eDirectory server that can provide authentication. On a simple LAN, the client can send an IP broadcast to discover this information, but on a multisite WAN, the SLP scope and Directory Agents must be listed.
Figure 2-6 Service Location Protocol (OpenSLP) Settings Page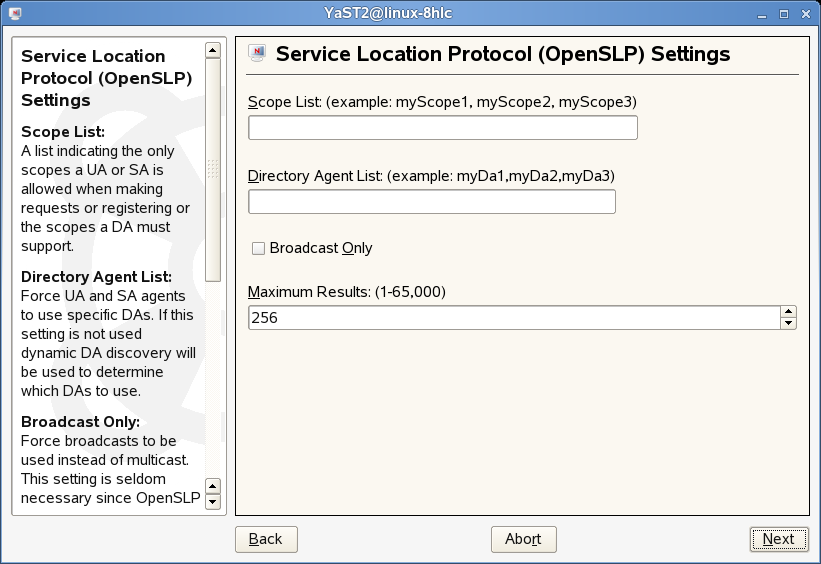 This page contains the following options:
Scope List: Specify the scopes that a user agent (UA) or service agent (SA) is allowed when making requests or registering, or the scopes that a directory agent (DA) must support.

Directory Agent List: Specify the specific DAs that UA and SA agents must use. If this setting is not used, dynamic DA discovery is used to determine which DAs to use.

Broadcast Only: Select this option to use broadcasting instead of multicasting. This setting is not usually necessary because OpenSLP automatically uses broadcasting if multicasting is unavailable.

SLP is designed to use IP multicasting; however, if any SLP Agent does not implement IP multicasting, then all Agents must use broadcasting to reach that Agent. If a DA does not support multicasting, we recommend using the Directory Agent List to configure that Directory Agent rather than using this option.

If the network does not contain a DA, IP servers must use their own SAs to specify the services that are available. If the SA does not support multicasting and if there are any services advertised by that SA that are needed by the UA on this machine, then use the Broadcast Only option.

Broadcasting has the disadvantage of being limited to the local LAN segment.

Maximum Results: Specify a 32-bit integer giving the maximum number of results to accumulate and return for a synchronous request before the time-out, or the maximum number of results to return through a callback if the request results are reported asynchronously.
If you make changes to the Service Location Protocol (OpenSLP) Settings page, you must reboot the workstation for those changes to take effect.
For more information, see Section 3.4, Using OpenSLP to Simplify Login, SLP Fundamentals, and the OpenSLP Web site.