During the creation of your Messenger system, you chose between direct access and LDAP access to eDirectory, as described in Installing a Novell Messenger System in the Novell Messenger 3.0 Installation Guide.
Figure 1-8 Directory Access Page in the Messenger Installation Program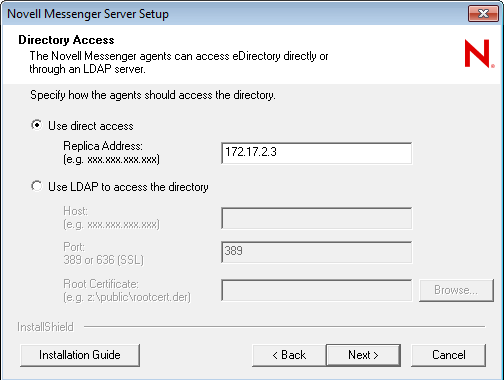 This choice applies initially to how the Messenger agents access eDirectory to obtain their configuration settings from their eDirectory objects. This access method information is stored in the agent startup files. Without additional configuration, the eDirectory access method chosen during installation also applies to how the Messaging Agent accesses eDirectory on behalf of Messenger users when they log in to Messenger, search for contacts, establish conversations, and so on.
You might want the Messaging Agent to access eDirectory differently on behalf of Messenger users than how the agents access eDirectory to obtain their configuration information. If so, you will create an LDAP Profile object in the LDAP Container object.
Figure 1-9 LDAP Container Object and Contents
An LDAP profile is used instead of a scope profile to provide a list of LDAP servers that the Messenger agents can contact when they need eDirectory access. By creating an LDAP profile, you have more LDAP-specific options available when you configure eDirectory access, as described in Providing LDAP Access to eDirectory for Messenger Users.