The NOWS SBE administration page gives you the tools to install, uninstall, configure, and update components. In addition, it provides you with Help links to assist you with any questions you might have about your new NOWS SBE server.
2.2.1

Components Panel

In the Components panel, you have the following menu items listed:

Figure 2-1 Components Panel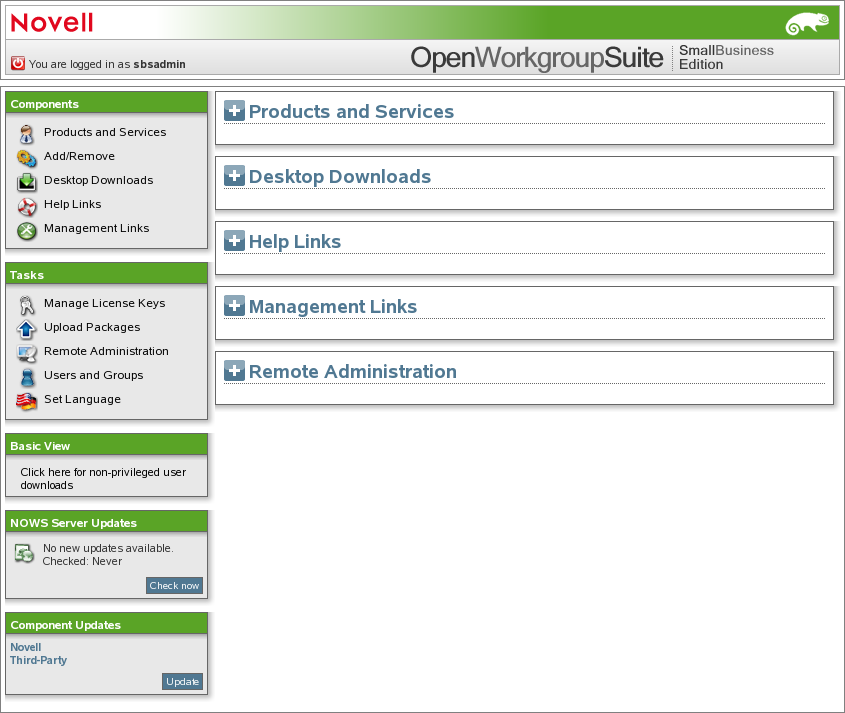 Products and Services
When you click Products and Services, you can view additional information on the installed components. Under Select Component, click the component's name to populate the Administrative Console, Helplinks, and Desktop Downloads.
Add/Remove
This link allows you to add and remove components. To view all components, click All under Available Software. You can also view components in the following categories: Backup Restore and Recovery, Business Applications, Collaboration Groupware and Messaging, > File Print and Fax, Security Management, and Systems Management. To uninstall a component, click Uninstall under Installed Software.
When each component is uninstalled, specific actions are taken to disable the component from your server.
Desktop Downloads
This link allows you to search for desktop applications that can be installed on the user desktops. Under Choose Operating System, specify the appropriate operating systems you are using. Under Choose Component, select the component you are searching for. You can also specify a keyword for your search.
Help Links
Click Help Links to view additional links to documentation sites. Under Choose Component, specify a component. You can also specify a keyword for your search.
Management Links
Click Management Links to view helpful management links. Under Filter Component, specify the desired component. You can also specify a keyword for your search.
2.2.2

Tasks Panel
Manage License Keys
The license key for your copy of Novell Open Workgroup Suite Small Business Edition is saved here.
To update your key or add a key for the first time, specify your e-mail address and current license key, then click Validate Key.
Upload Packages
To receive component downloads and updates, click Novell, Third-Party, and Upload.
To add a new update package, click, then click Start Upload.
NOTE: Updates should be done only through the Administrative interface.
Remote Administration
Manage your remote access and desktop downloads.
Users and Groups
Manage and view users and groups.
Set Language
Specify the language for the NOWS SBE administration console.
2.2.5

Component Updates

On the Component Updates menu panel, you can check for recent updates for Novell and third-party components. Click Novell to check for component updates from Novell. Click Third-Party to check for component updates from third-party clients.