3.2.2

Required Rights and Permissions for a CIFS User/Administrator
Example for CIFS Cluster Rights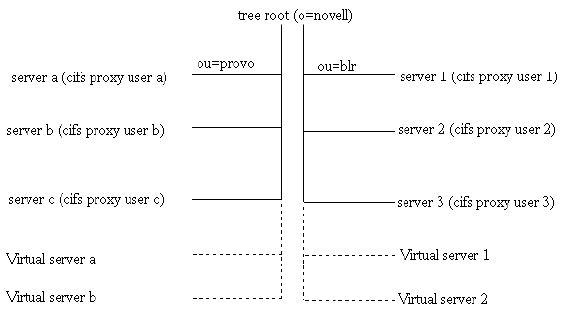 | | |
| --- | --- |
| The cifs proxy user a, cifs proxy user b, and cifs proxy user c have the rights to read the eDirectory CIFS attributes under ou=provo (Virtual server a and Virtual server b). Hence if these virtual servers are hosted in any of these three nodes, the configuration is read by the CIFS service in the corresponding node. | The cifs proxy user 1, cifs proxy user 2, and cifs proxy user 3 have rights to read the eDirectory CIFS attributes under ou=blr (Virtual server 1 and Virtual server 2). Hence if these virtual servers are hosted in any of these three nodes, the configuration is read by the CIFS service in the corresponding node. |
If the virtual server requires to be migrated across the branches, then the cifs proxy users have to be given explicit rights on those branches such that the CIFS attribute information can be read.
The attributes for which the cifs proxy user requires rights are, nfapCIFSServername, nfapCIFSComment, nfapCIFSShares, and nfapCIFSAttach. These attributes must have read, write, and compare rights. If the rights are defined on the branch (preferable), then the inherit rights also have to be provided.
In this example, if Virtual server 2 is to be hosted on node server c, then cifs proxy user c must be provided access to read the attributes of Virtual server 2. The rights for the above mentioned attributes can be provided at ou=blr for cifs proxy user c. Hence the same rights hold good for hosting Virtual server 1 too.