After iManager connects to an OES server running Samba, the General page is displayed.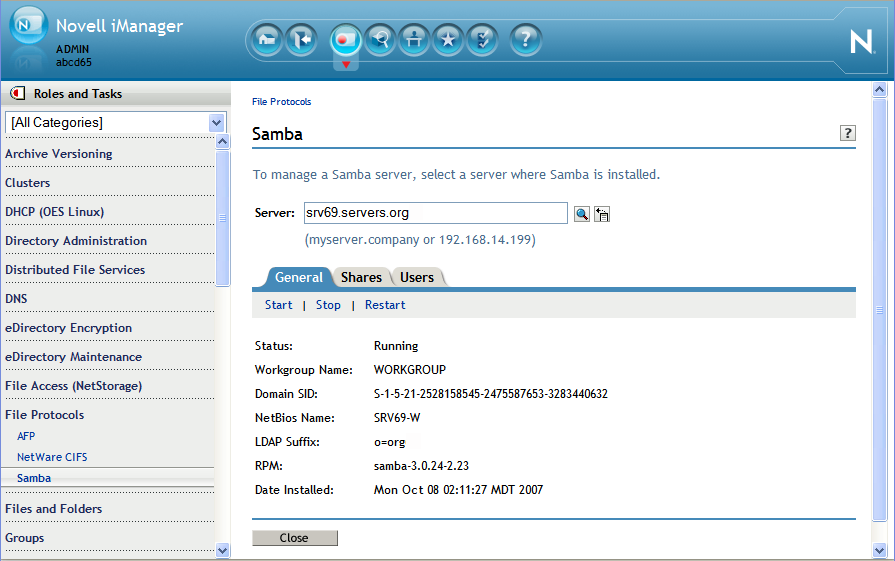 This page provides the following information:
Status: The current status of the Samba server (Running or Stopped).

Workgroup Name: The workgroup name configured for the server. The default workgroup name for OES Samba servers is WORKGROUP.

Domain SID: The unique Security ID number generated for this particular combination of machine name (hostname) and domain name (workgroup).

NetBios Name: The name displayed for the server when browsing the network; by default, the DNS hostname with "-W" appended to it. This prevents a name collision with the NCP Server object.

LDAP Suffix: The eDirectory context where the Samba domain object (hostname-W) is created and where the default Samba group (hostname-W-SambaUserGroup) is located. It is also the base context that the Samba server uses to search for User objects in eDirectory.

RPM: The name and version of the Samba software running on the server.

Date Installed: The date and time the server was installed.
For more detailed information, including how to reconfigure the Workgroup Name, NetBios Name, and LDAP Suffix, see Section B.2, Changing the Samba Server Configuration.