6.4

Understanding the Layout of Novell Remote Manager

The Web pages for Novell Remote Manager have three main frames: the header frame (top), the navigation frame (left), and the main content frame (right). They also contain the Overall Health Indicator and online help.

Figure 6-1 Layout of Novell Remote Manager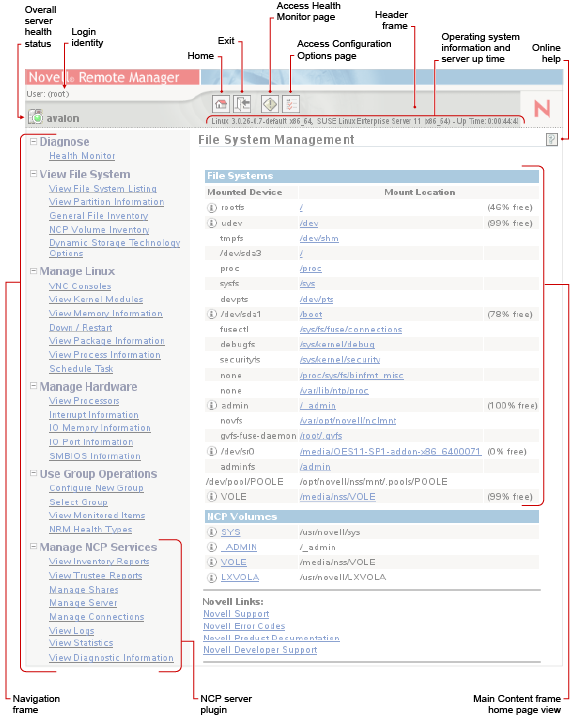 Header Frame
Contains general information about the server as well as links to the Health Monitor and Configuration pages and an Exit link to close the browser window. The File System Management page is considered the Home page.
The general information about the server includes the following:
Overall server health status as one of the following:

Server name

Name of the user you are logged in to Novell Remote Manager as

Version of the operating system running on the server and the amount of time the server has been running
Navigation Frame
Lists general tasks that you can do using Novell Remote Manager as well as links to specific pages for performing those tasks. The left navigation frame includes collapsible categories that are remembered for the next time you log in. This lets you display the Novell Remote Manager features that you use most often and hide some of the ones that you don't.
The links in the navigation frame change depending on the plug-in programs that are installed on the server.
IMPORTANT:When working in Novell Remote Manager, using the browser's Back button can result in unintended actions being re-sent to the server. You must use the navigation links provided in the tool.
Main Content Frame
The information in this frame changes depending on which link you click in the header or navigation frame.
Overall Health Indicator
Shows the overall health for the server as determined by the selections on the Health Monitoring page. Clicking the Server Health icon

also takes you to the Health Monitoring page where you can view or configure the specifics of the server's health.
Online Help
When a Help icon

appears in the upper right corner of a page in the main content frame, you can view help for the page that is displayed.