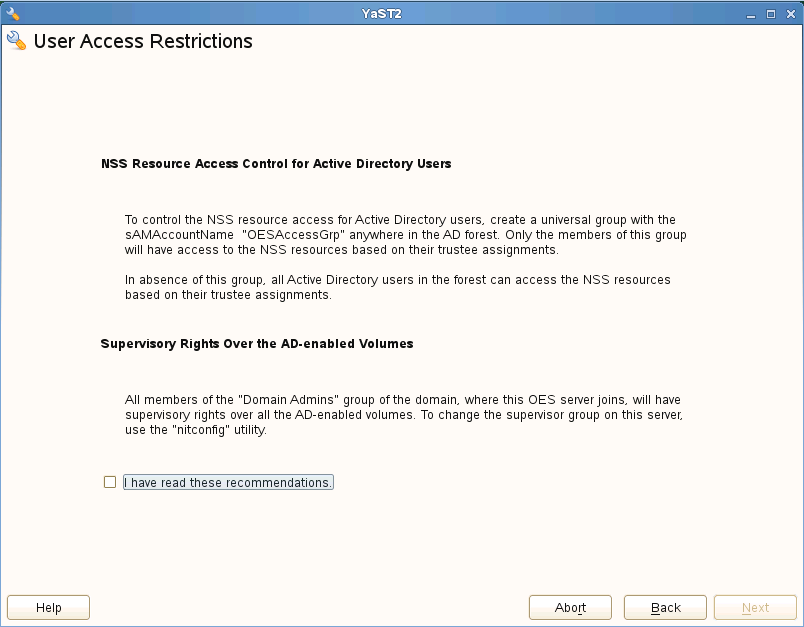 Accept the advisory notes and then click Next to proceed the installation further.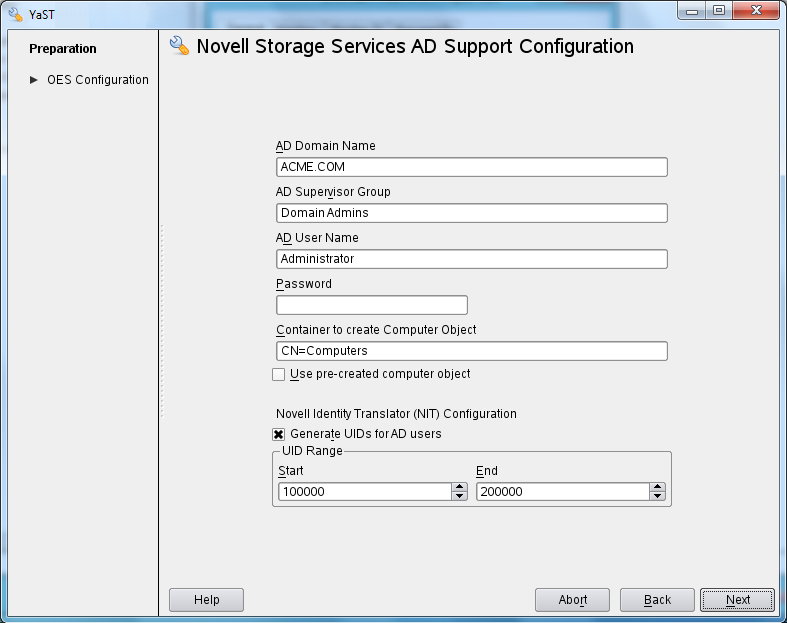 AD Domain Name: Displays the domain name based on this server's LAN settings. Specify the domain name if you want to join to a different domain.
AD User Name: Specify the user credentials of the Administrator, or an administrator equivalent, or a standard domain user with sufficient rights to create computer objects.
AD Supervisor Group: Specify the AD supervisor group name. The AD users belonging to this group will have supervisory rights for all the volumes associated with that OES server.
Container to create Computer Object: By default, the domain join process creates the computer object for this server to the default container CN=Computers. If you specify a different Organizational Unit, for example, OU=OES2015Servers, it adds the computer object to that OU. Create the OU before you start configuring NSS for Active Directory.
Use pre-created computer object: Selecting this check box maps this server to the Computer Object that exists in the container you specified. Before you start configuring NSS for Active Directory, create the Computer Object with the NetBIOS name of the node.
Novell Identity Translator: OES 2015 includes a new service named Novell Identity Translator (NIT) that dynamically provides Linux user IDs on OES 2015 or later systems to Novell eDirectory and Microsoft Active Directory users for NSS file access. NIT can be configured to work with either eDirectory only or both eDirectory and Active Directory.
For more information about commandline options, see Domain Join Tool to Join the OES 2015 Servers to an Active Directory Domain in the OES 2015 SP1: NSS AD Administration Guide.