3.9

Using the PC Phone Feature

This pane is only displayed when you are connected to a server with voice support enabled.

If you experience audio problems on Linux, trying adjusting the audio levels and enabled devices. If this does not work, try switching from the OSS to the ALSA sound system; this selection is available from the PC Phone tab in the Preferences dialog box (Options > Preferences).

There are three functional buttons and a Mute microphone option for the PC Phone pane in your Meeting window:

Figure 3-6 PC Phone Pane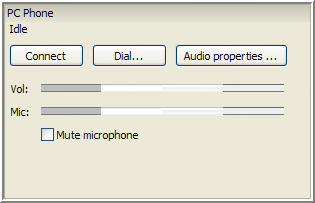 Connect: Click Connect to use your PC Phone to connect to the meeting.
Dial: Click Dial to use your PC Phone to make a call to a specific number while you are in a meeting.
Audio properties: Click Audio properties to edit/configure your computer's audio properties.
Mute microphone: Select this option to mute your microphone locally. This is similar to using the Mute button on your phone. It does not affect the mute setting on the Conferencing bridge, and meeting participants cannot see that you are muted.