When you select Select applicable devices, the Confirm Devices page appears as shown in the following figure:
Figure 6-4 Confirm Devices Page for the Select Applicable Devices Type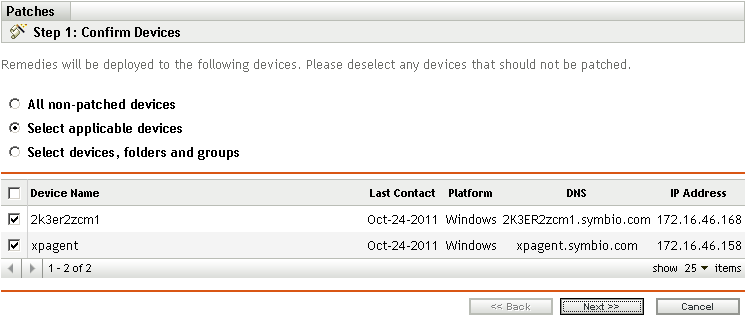 Selecting this option deploys the patch to the devices you select from the devices list. You can deploy a patch to a device regardless of its existing patch status, which can be patched or not patched.
NOTE:If you deploy a patch from the Patch Management page, the list of devices that appears is based on the patch Status filter you choose.
Table 6-1 Confirm Devices Page Column Headings
Device Name

The name of the device.

The name of the device registered with Novell ZENworks 11 SP4 Patch Management to which the patch is to be deployed.

Last Contact

The status of the device when they were last contacted.

Platform

The operating system of the device.

DNS

The name of the DNS server.

IP Address

The IP address of the device.