In the GroupWise System Preferences dialog box, click the Admin Preferences tab to modify any of the following options: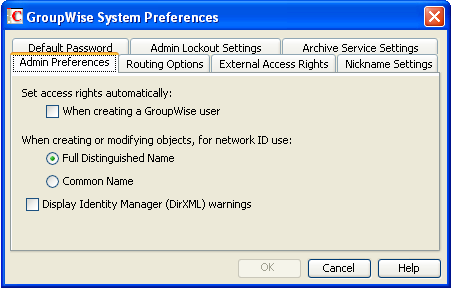 Set Access Rights Automatically: Users require specific eDirectory and file system rights in order to use GroupWise (see Section 89.0, GroupWise User Rights). Select this option to automatically grant these rights when creating a GroupWise account for users.
Appropriate eDirectory object rights enable the GroupWise client to log in to the user's post office without prompting the user for the post office location (IP address, UNC path, or mapped drive.)
Appropriate file system rights enable the GroupWise client to directly access the post office directory rather than use client/server access.
When Creating or Modifying Objects, For Network ID Use: Select Full Distinguished Name (for example, paul.engineering.ny) when users' mailboxes reside on a NetWare server and users have an eDirectory connection to the server where the post office resides.
Starting in GroupWise 2012, NetWare is no longer a supported GroupWise platform. However, Novell eDirectory is still required (version 8.7 or later). The supported versions of eDirectory use full distinguished names for network IDs.
Do not select Common Name (for example, paul).
Display Identity Manager (DirXML) Warnings: The Identity Manager Driver for GroupWise provides data integration between GroupWise users and groups in eDirectory. For example, you can have an email account automatically created as soon as an employee is hired. The same driver can also disable an email account when a user is no longer active.
If you are using the Identity Manager Driver for GroupWise, some GroupWise operations that you perform in ConsoleOne require you to take preliminary actions with the driver. For example, if you recover a deleted account, you need to stop the driver before recovering the account and restart it after the operation is complete.
This option enables you to receive a warning message whenever you perform a GroupWise operation in ConsoleOne that is affected by the Identity Manager driver. The warning message includes instructions about the actions you need to take with the driver before continuing with the GroupWise operation. If you are using the Identity Manager Driver for GroupWise, we strongly recommend that you enable this option. If you are not using the driver, you can disable the option to avoid receiving unnecessary messages.
For more information, see GroupWise DirXML Driver for Novell Identity Manager in the GroupWise 2012 Interoperability Guide.