7.2

Managing the Samba Server

This section covers the following tasks that are performed via the Samba management plug-in for iManager:
7.2.1

Selecting a Samba Server to Manage

To select the Samba server you want to manage:
Start iManager by pointing your browser to the following URL:

http://IP_address_or_DNS_name/iManager.html

Substitute the IP address or DNS name of a server that has iManager installed.

In the Roles and Tasks view, select File Protocols > Samba.

Use one of these methods to select a server:

Type the eDirectory distinguished name or IP address for the server you want to manage (for example: srv1.servers.novell or 192.168.2.1), then click OK.

Click the Search icon to open the eDirectory Object Selector. Browse or search the list to locate the server you want to manage, then click the server name.

Click the Object History icon to select a server you have recently managed.

NOTE:The browse and search functions find only NetWare Core Protocol (NCP) Server objects. If you want to manage Samba on an OES 2 server that doesn't have an NCP Server object (for example, if Novell eDirectory is not running on the server), you must enter the server's IP address.
7.2.2

Viewing General Information about the Samba Server

After iManager connects to an OES 2 server running Samba, the General page is displayed.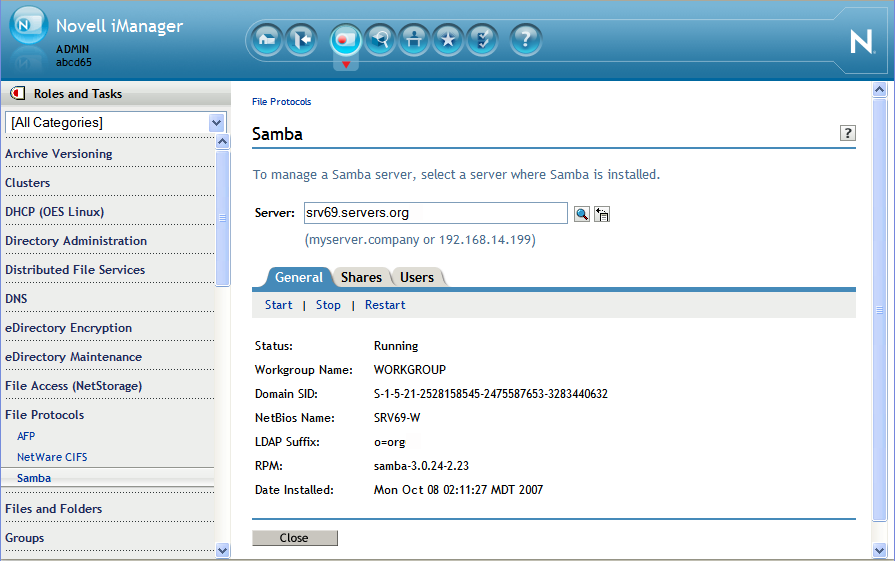 This page provides the following information:
Status: The current status of the Samba server (Running or Stopped).

Workgroup Name: The workgroup name configured for the server. The default workgroup name for OES 2 Samba servers is WORKGROUP.

Domain SID: The unique Security ID number generated for this particular combination of machine name (hostname) and domain name (workgroup).

NetBios Name: The name displayed for the server when browsing the network; by default, the DNS hostname with "-W" appended to it. This prevents a name collision with the NCP Server object.

LDAP Suffix: The eDirectory context where the Samba domain object (hostname-W) is created and where the default Samba group (hostname-W-SambaUserGroup) is located. It is also the base context that the Samba server uses to search for User objects in eDirectory.

RPM: The name and version of the Samba software running on the server.

Date Installed: The date and time the server was installed.
For more detailed information, including how to reconfigure the Workgroup Name, NetBios Name, and LDAP Suffix, see Section B.2, Changing the Samba Server Configuration.
7.2.3

Starting and Stopping the Samba Server

You must restart Samba every time you make a manual change to the Samba configuration file (/etc/samba/smb.conf). You do not need to restart Samba after making changes via the Samba management plug-in for iManager.

These tasks are available on the Samba management General page in iManager:
To start Samba, click Start.

To stop Samba, click Stop.

To restart Samba, click Restart. (Restart is the same as a Stop followed by a Start.)