NetWare Core Protocol (NCP) is the technology beneath many of the network services for which NetWare is famous.
In OES, NCP is also available on Linux. The Novell NCP Server for Linux provides the rich file services that Novell is known for. Windows and Linux users who run Novell Client software can access data, manage files and folders, map drives, etc., using the same methods as they do on NetWare servers.
Figure 18-1 illustrates the basics of NCP file services. For more information on how NCP can help you manage access to network resources, see Access Control and Authentication.
Figure 18-1 NCP Services for Linux and NetWare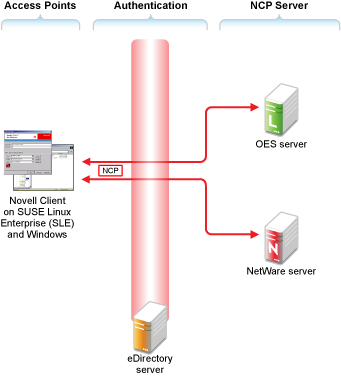 The following table explains the information illustrated in Figure 18-1.
Table 18-1 NCP Access
Access is through an NCP client—specifically, the Novell Client.

All file service access is controlled by eDirectory authentication.

Files are stored on NetWare or NCP volumes that the administrator has created.

The same core set of NetWare file attributes are available on both Linux and NetWare.