NetWare runs only iFolder 2.x while OES runs iFolder 3.9, and as the version numbers imply, iFolder 3.9 is much more robust and flexible.
Figure 5-3 How Novell iFolder 3.9 Works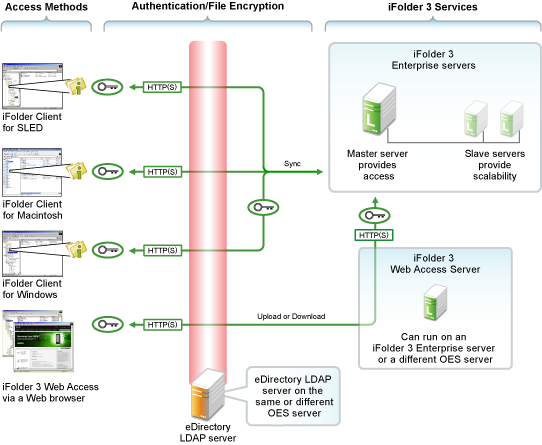 The following table explains the information illustrated in Figure 5-3.
Linux, Macintosh, and Windows workstation users who have the Novell iFolder Client installed can access and modify their files in one or more workstation folders. Changes are automatically synchronized with the iFolder 3.9 Enterprise servers.

A Web interface lets users access their files from any computer with an active network or Internet connection.

All file service access is controlled by LDAP- based authentication through the eDirectory LDAP server.

Although it is shown separately, eDirectory could be installed on the OES server.

Files can be encrypted for transport using SSL connections (HTTPS).

Slave servers can be added as needed, providing the ability to dynamically grow iFolder services without disrupting users.

Local and network copies of each file are automatically synchronized by the Novell iFolder Client and Server pieces.
Additional overview information is available in Overview of Novell iFolder in the Novell iFolder 3.9.2 Administration Guide.