Enabling Stubbing in the Profile will cause Retain to automatically delete items from GroupWise and replace them with a stub pointer to the Retain Archives. This will have effects, for example, you will be able to see the header data in GroupWise but not the message bodies or attachments, on viewing the items in anything other then the desktop client.
Once you start stubbing in the profile you cannot reverse it. We do not recommend this use of stubbing.
Once GroupWise and the Stubbing Server have been configured as above, you need to enable stubbing in the Profile.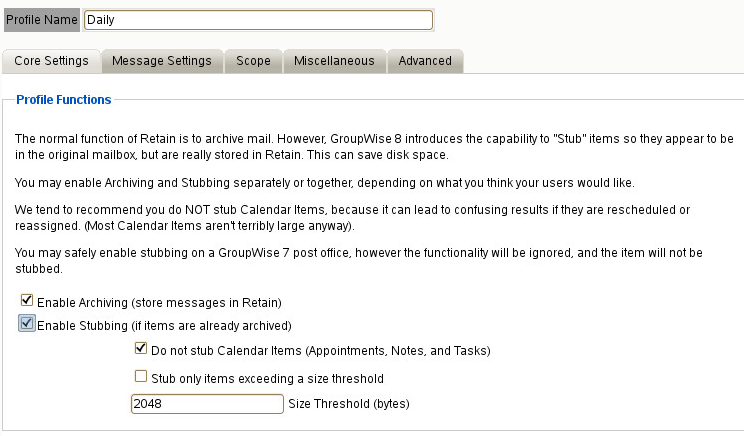 Retain will show a popup warning of the effects of stubbing.

WARNING:GroupWise will delete messages from the post office after they have been archived in Retain. Only use this option if you understand the implications to data integrity.
The next job that runs will delete items from GroupWise and replace them with stubs that point to the Retain Archives. Users will not be able to see anything other then the header data (Subject, to, from, date, &etc.) in WebAcc, or mobile clients. User will be able to read the whole message only in the desktop GroupWise client.
You would want to set the Date Range to Scan to "All Items in Mailbox" because what would be the point of stubbing only new messages.
Set up the Job
You can set up the job to use the Stubbing profile and select the Mailboxes to a particular Post Office or a particular User.
When the worker successfully dredges each item in the mailbox the item will be deleted and stubs placed.
GroupWise Client
In the GroupWise Client, messages that have been stubbed will be marked with an open circle icon. Opening messages may take a moment as the data is retrieved from Retain.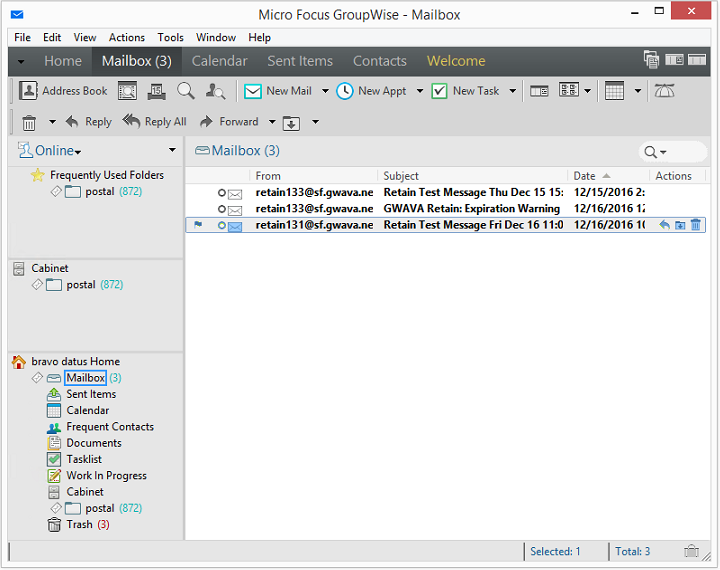 But in web access and third-party applications, you'll see nothing: