The conditions are the criteria which determine whether the action is applied to message data or not.

Category list
Select the category that the criteria is to be restricted to, from the menu.

Criteria
After a criterion is selected, the condition is entered in plain text or as a regular expression, and are separated into categories.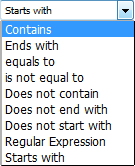 The 'Starts with' menu further defines the criteria. The 'Starts with' menu also allows the administrator to either relax some constraints by selecting a vague entry like 'Contains' or 'Starts with', or specify the criteria with 'Regular Expression'. Select the appropriate limiter and then select the 'Add Condition' button. Multiple conditions may be added. Make sure to save changes before leaving the page.