Copy the Retain storage directories from the old server to the new server (see step #1 under the "Preparation" section for the location of this directory). WARNING: This step can take days or weeks depending on the data size.
Because the Windows server is using NTFS as the disk format and Linux something different (ext3, xfs, etc), you'll need to employ an approach where the data on these two distinct disk formats can be read from and written to by the same process.
One approach is to create a CIFS mount from the Linux box to the Windows server. This requires that you first share the parent directory of the "archive" directory on your Windows server housing Retain. Another approach would be to install NFS services on the new Windows server, share the new storage directories, and mount from the old Linux server to the new shared storage directories.
​Once that is done, you can now use rsync to copy the files from Retain storage directory on Windows to the new Linux server. To help with this process, you may download and install Support's utility for copying the files/directories.
Change to the new archive directory. It should have 256 subdirectories (00 - FF). All those subdirectories must have the ownership of tomcat tomcat.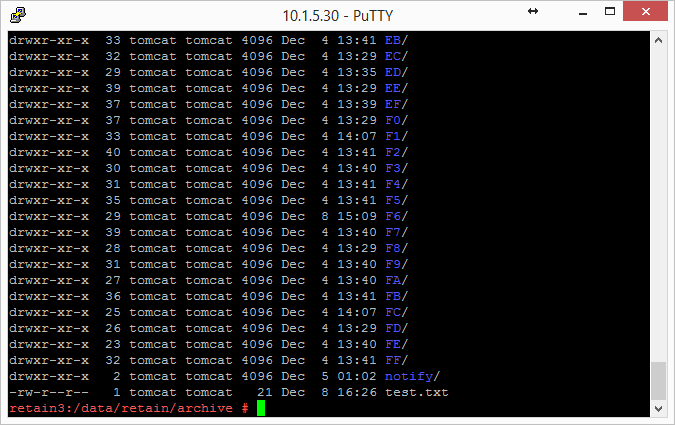 Windows does not have a file ownership scheme similar to Linux, so once you've copied the storage directories over, you'll need to set the directory/file ownership and permissions. That process can take almost as much time as copying the directories did but it must be done in order for Retain to be able to read from and write to them. To do this, type: chown -R tomcat:tomcat [directory].
EXAMPLE: chown -R tomcat:tomcat archive (performed from the base storage path containing the archive, index, and other Retain storage directories)