The goal of Service Level Management is to maintain and improve the alignment between business activities and IT service quality. This is achieved through the cycle of:
Agree on service level expectations and record them in Service Level Agreements (SLAs)

Monitor the service provided

Report actual service delivery results

Review IT service delivery results in relation to the SLA, and adjust accordingly.
A Service Level Agreement (SLA) is a formal, negotiated contract that outlines service level expectations and clarifies responsibilities between the Service Desk and its Customers. When unacceptable levels of service are noted throughout the service cycle, action can be taken to re-align expectations with actual service delivery results.
Within the system, SLAs are specific and time-based in order to help monitor and report on performance. They can be applied to any of the following elements within the application:
Customers

Organizational Units

Items.
NOTE:Only Users assigned with the Service Level Management Role can create or modify SLAs.
SLAs are incorporated in the support process when a new Workflow is created. An SLA is assigned to a Workflow and specifies the expected resolution time for a request. To successfully meet SLA expectations, the system allows the Service Desk to associate each Workflow State of a request with an Operational Level Agreement (OLA) or Underpinning Contract (UC).
An OLA is an internally negotiated document that identifies the service level expectations between the Service Desk and the Technical Support Teams. An Underpinning Contract enables the Service Desk to monitor and maintain control of requests that are forwarded to external service and support providers.
To ensure an SLA resolution time is met, the sum of the resolution times for each of the OLAs or Underpinning Contracts assigned to a Workflow Lifecycle must be less than or equal to the SLA resolution time.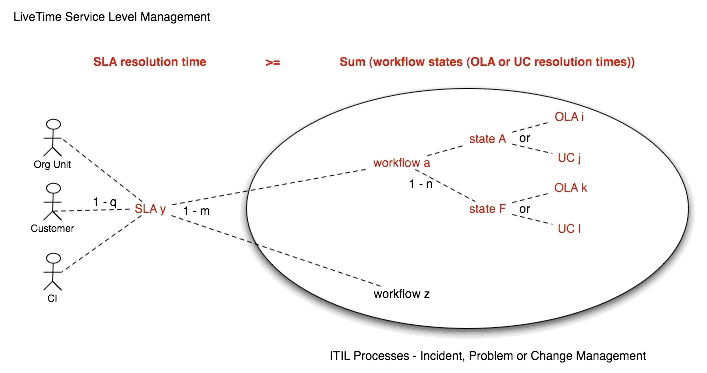 1.9.1

SLAs in Action

When a request is logged with the Service Desk, the request adopts the SLA that has been assigned to either the Item, Customer or Organizational Unit. If an SLA has not been allocated to any of these elements, the SLA assigned as the system default within the Admin>Setup>Privileges>Requests tab will be automatically applied to the request.

The SLA allocated to the request determines the Workflow options made available for the lifecycle of the request. The Workflows listed are assigned the same SLA as the request. Before saving the request, the User can adjust the system assigned Workflow if more than one option exists.

Refer to SLM Configuration for more detailed information.