NetIQ eDirectory 8.8 SP8 is required for managing the Cluster object and Cluster Node objects for Novell Cluster Services. eDirectory must be installed and running in the same tree where you create the cluster. eDirectory can be installed on any node in the cluster, on a separate server, or in a separate cluster. You can install an eDirectory master replica or replica in the cluster, but it is not required to do so for Novell Cluster Services.
For information about using eDirectory, see NetIQ eDirectory 8.8 SP8 Administration Guide.
IMPORTANT:Because the cluster objects and their settings are stored in eDirectory, eDirectory must be running and working properly whenever you modify the settings for the cluster or the cluster resources.
In addition, ensure that your eDirectory configuration meets the following requirements:
eDirectory Tree
All servers in the cluster must be in the same eDirectory tree.
eDirectory Context
If you are creating a new cluster, the eDirectory context where the new Cluster object will reside must be an existing context. Specifying a new context during the Novell Cluster Services configuration does not create a new context.
Cluster Object Container
We recommend that the Cluster object and all of its member Server objects and Storage objects be located in the same OU context. Multiple Cluster objects can co-exist in the same eDirectory container. In iManager, use Directory Administration > Create Object to create a container for the cluster before you configure the cluster.
For example, Figure 4-2 shows an example where all clusters are configured in the ncs organizational unit. Within the container, each cluster is in its own organizational unit, and the Server objects for the nodes are in the same container as the Cluster object:
Figure 4-2 Same Container for Cluster Object and Server Objects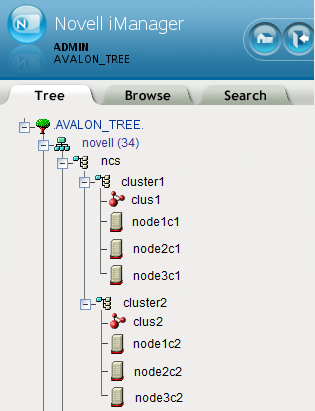 If the servers in the cluster are in separate eDirectory containers, the user that administers the cluster must have rights to the cluster server containers and to the containers where any cluster-enabled pool objects are stored. You can do this by adding trustee assignments for the cluster administrator to a parent container of the containers where the cluster server objects reside. See eDirectory Rights in the NetIQ eDirectory 8.8 SP8 Administration Guide for more information.
Renaming a pool involves changing information in the Pool object in eDirectory. If Server objects for the cluster nodes are in different containers, you must ensure that the shared pool is active on a cluster node that has its NCP server object in the same context as the Pool object of the pool you are going to rename. For information about renaming a shared pool, see Section 12.12, Renaming a Clustered NSS Pool.
Cluster Objects Stored in eDirectory
Table 4-1 shows the cluster objects that are automatically created and stored in eDirectory under the Cluster object (

) after you create a cluster:
Table 4-1 Cluster Objects
Master_IP_Address_Resource

Cluster Node object (servername)

Resource Template objects. There are 11 default templates:

AV_Template
DHCP_Template
DNS_Template
Generic_FS_Template
Generic_IP_Service
iFolder_Template
iPrint_Template
MySQL_Template
Samba_Template
Xen_Template
XenLive_Template
For example, Figure 4-3 shows the 13 default eDirectory objects that are created in the Cluster container as viewed from the Tree view in iManager:
Figure 4-3 Tree View of the Default eDirectory Objects in the Cluster
Table 4-2 shows the cluster objects that are added to eDirectory when you add nodes or create cluster resources:
Table 4-2 Cluster Resource Objects
| | |
| --- | --- |
| | Cluster Node object (servername) |
| | NSS Pool Resource object (poolname_SERVER) |
| | Resource object |
Table 4-3 shows the cluster objects that are added to eDirectory when you add nodes or create cluster resources in a Novell Business Continuity Cluster, which is made up of Novell Cluster Services clusters:
Table 4-3 BCC Cluster Resource Objects
| | |
| --- | --- |
| | BCC NSS Pool Resource object |
| | BCC Resource Template object |
| | BCC Resource object |