The topics in this section are designed to help you understand when LUM-enabled access is required so that your network services are accessible and work as expected. For more information about Linux User Management, see Overview in the OES 2018 SP2: Linux User Management Administration Guide.
A Graphical Preview of Linux User Management
Figure 13-1 illustrates how Linux User Management controls access to the OES server.
Figure 13-1 LUM Provides POSIX Access for eDirectory Users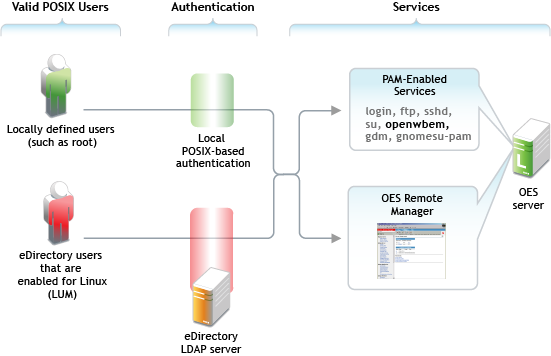 The following table explains the information presented in Figure 13-1.
Table 13-1 Linux User Management
Some services on OES servers must be accessed by POSIX users.

eDirectory users can function as POSIX users if they are enabled for Linux access (LUM).

When the system receives an action request, it can authenticate both local POSIX users and users who have been enabled for Linux access.

Users can potentially access PAM-enabled services, Samba shares, and OES Remote Manager as either local or eDirectory users.

By default, only the sfcb command (required for server management) is enabled for eDirectory access.
Linux Requires POSIX Users
Linux requires that all users be defined by standard POSIX attributes, such as username, user ID (UID), primary group ID (GID), password, and other similar attributes.
Linux Users Can Be Local or Remote
Users that access a Linux server can be created in two ways:
Locally (on the server): Local users are managed at a command prompt (using commands such as useradd) or in YaST. (See the useradd(8) man page and the YaST online help for more information.) These local users are stored in the /etc/passwd file. (See the passwd(5) man page for more information.)

IMPORTANT:As a general rule on OES servers, the only local user account that should exist is root. All other user accounts should be created in eDirectory and then be enabled for Linux access (LUM). You should never create duplicate local and eDirectory user accounts.

Remotely (off the server): Remote users can be managed by other systems, such as LDAP-compliant directory services. Remote user access is enabled through the Pluggable Authentication Module (PAM) architecture on Linux.
The Linux POSIX-compliant interfaces can authenticate both kinds of users, independent of where they are stored and how they are managed.
The root User Is Never LUM-Enabled
The OES user management tools prevent you from creating an eDirectory user named root, thus replacing the root user on an OES server. If root were to be a LUM user and eDirectory became unavailable for some reason, there would be no root access to the system.
Even if eDirectory is not available, you can still log into the server through OES Remote Manager and perform other system management tasks as the root user.
About Service Access on OES
Linux User Management (LUM) lets you use eDirectory to centrally manage remote users for access to one or more OES servers.
In other words, LUM lets eDirectory users function as local (POSIX) users on an OES server. Access is enabled by leveraging the Linux Pluggable Authentication Module (PAM) architecture. PAM makes it possible for eDirectory users to authenticate with the OES server through LDAP.
In OES, the terms LUM-enabling and Linux-enabling are both used to describe the process that adds standard Linux (POSIX) attributes and values to eDirectory users and groups, thus enabling them to function as POSIX users and groups on the server.
You can use iManager to enable eDirectory users for Linux. For instructions, see About Enabling eDirectory Users for Linux Access.
OES Services That Require LUM-Enabled Access
Some services on an OES server require that eDirectory users be LUM-enabled to use them:
OES Services That Do Not Require LUM-Enabled Access But Have Some LUM Requirements
Some services do not require eDirectory users to be LUM-enabled for service access:
NetStorage: NetStorage users don't generally need to be LUM-enabled. However, salvaging and purging files through NetStorage on an NSS volume can only be done by users who are enabled for Linux.

IMPORTANT:Files that are uploaded by non-LUM users via NetStorage are owned, from a POSIX perspective, by the root user. The assumption is that such users are accessing their data on NSS or NCP volumes by using an NCP storage location object. In both cases, the OES Trustee Model applies and POSIX ownership is irrelevant.

If non-LUM NetStorage users are later enabled for Samba access (which means they are then LUM-enabled), and they begin using Samba as a file service, their NetStorage uploaded files are not accessible through Samba until you make them the file owners from a POSIX perspective. Although the OES implementation of Samba leverages eDirectory for authentication, Samba file and directory access is always controlled by POSIX. The OES Trustee Model does not apply to Samba.

Both OES trustee assignments and POSIX file ownership are tracked correctly after users are LUM-enabled.

Although NetStorage does not require LUM-enabled access, the service itself runs as a POSIX-compliant system (proxy) User (initially a local user on the OES server) who functions on behalf of the end users that are accessing the service.

If NetStorage must access NSS volumes, this local system user must be moved to eDirectory and LUM-enabled because only eDirectory users can access NSS volumes. The OES installation program configures this correctly by default.

For more information, see Section H.0, System User and Group Management in OES.

NSS: eDirectory users that access NSS volumes directly through NCP (the Client for Open Enterprise Server) are not required to be LUM-enabled.
OES Services That Do Not Require LUM-enabled Access
The following end user services do not require LUM-enabled access:
iPrint

NCP Client to an NCP Volume

NCP Client to an NSS Volume

AFP

CIFS
LUM-Enabling Does Not Provide Global Access to ALL OES Servers
As you plan to LUM-enable users for access to the services that require it, keep in mind that each OES server being accessed must be associated with a LUM-enabled group that the accessing users belong to.
In other words, it is not sufficient to LUM-enable users for access to a single OES server if they need access to multiple servers. An association between the LUM-enabled groups that the users belong to and the eDirectory UNIX Workstation object associated with each server must be formed by using iManager. This can be accomplished for multiple servers by using the process described in Enabling eDirectory Groups and Users for Linux Access.
For more information on LUM, see the OES 2018 SP2: Linux User Management Administration Guide.
LUM-Enabling Required for Full Administrative Access
The current LUM architecture requires that administrators, administrator equivalents, partition administrators, and RBS-enabled managers be LUM-enabled to have full management capabilities.