The default view provides a list on top of the PDF viewer which works as a table of contents to provide access to the exported archive and requires that Adobe Flash is installed on the viewing workstation.
Select the desired message or messages, then click the Export button.
Core Settings Tab
Basic PDF export settings are set here.
Send email when export is complete to
Document Title
Document Subtitle
Comment to include
Download Filename
Password protect PDF (leave blank for none)
Output tab
Fill out the various options as desired.
PDF Export Output Tab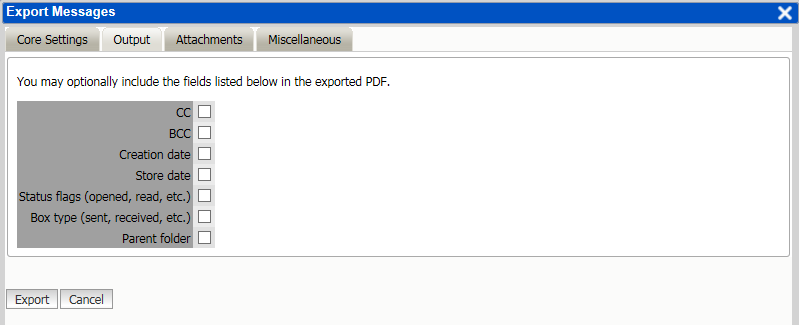 CC
BCC
Creation date
Store date
Status flags (opened, read, etc.)
Box type (sent, received, etc.)
Parent folder
Attachments tab
File output and included fields can be edited
PDF Export Attachments Tab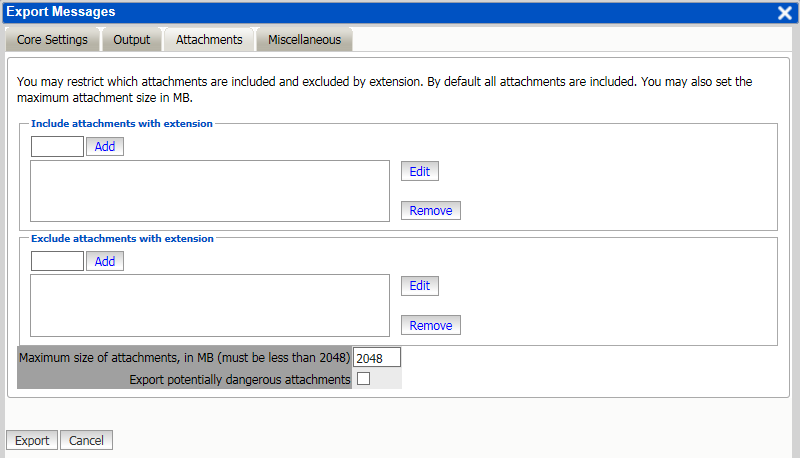 You may restrict which attachments are included and excluded by extension. By default all attachments are included. You may also set the maximum attachment size in MB.
Include attachments with extension
Exclude attachments with extension
Maximum size of attachments, in MB (must be less than 2048)
Export potentially dangerous attachments
Miscellaneous tab
Select which attachments to include and exclude from the PDF.
PDF Export Miscellaneous Tab

You may set the page size, or the total PDF size.
Page Size to use
Letter
A4
Maximum size of PDF in MB (must be less than 2048)
Time Zone
Additionally, any restrictions to the size or time zone for the PDF. If the archive size does not exceed the maximum size, then the archive will be contained in one file. If the archive is larger than the defined limit, it will be exported in multiple PDFs. Time zone information will be used for formatting any time and date information in the email headers. The time written to the cover sheet and date column in the PDF table of contents is written according to the time zone of the Retain Server.
When ready to export, select 'Export'. Depending on the size of the selected archive, the export may take some time.
Currently running export jobs are listed under the 'Exported Items' tab.