User Roles
There are seven access levels in the system that determine the functionality and privileges. These include the Administrator and Customer Roles, plus five User Roles:
A Default Role is assigned if multiple Roles are allocated to an individual.
 
A User can have more than one Role but only one of the licensed Roles of:
Supervisor

Partner

Technician.
Default Portal
Individuals can be allocated more than one Role. For Users assigned more than one Role, define a Default Portal within their Information screen. When they log into the system, the Default Portal is displayed and they can move to other Portals using the links provided next to their login name.
The Default Portal options include Customer, Setup for system Administrators and User, for those assigned a Supervisor/Technician/Partner, Finance and Manager Role(s).
When a person has multiple Roles, the Default Role is used to log into the system and the privileges of multiple User Roles are consolidated in one view. For example, if a User is assigned Finance, Manager and Supervisor/Technician access, they can view all functionality related to these Roles within the User view.  
When the User is also assigned Admin and Customer access, next to their login name, the options of Setup and Customer will be displayed.


The Administrator can access the admin functionality within the Setup view. If the Administrator is also assigned User and Customer access, next to their login name, the options of Setup and Customer will be displayed.
Users or Administrators who are also assigned Customer access can view the Customer Portal through the Customer link displayed in the sub-menu bar. Whilst logged in as the Customer, the options of User and Admin Portal will be displayed within the Customer Portal sidebar Menu.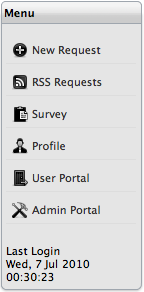 To move to another User Role portal:
Log in using the credentials for the default User Role

Click on the Setup/User/Customer link, as required.
The screen defaults to the selected functionality.